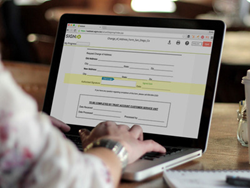 With this partnership, we're removing the hassle of manual or tedious paperwork and allowing firms to focus on what matters – the client.
CHATTANOOGA,Tenn. (PRWEB) December 09, 2015
Paperwork approval software company Forms Logic and SIGNiX, the leading provider of cloud-based Independent E-Signature™ solutions, announced today a partnership focused on streamlining data entry of PDF forms and compliant digital signature approvals for financial services professionals. Forms Logic has integrated SIGNiX's patented Independent E-Signature™ technology into its application interface for customer-defined workflow approvals.
"We are excited to bring our technologies closer together to enable a better user experience for managing paperwork," said Rick Burgess, CEO of Forms Logic. "With this partnership, we're removing the hassle of manual or tedious paperwork and allowing firms to focus on what matters – the client."
The partnership serves primarily broker-dealers and financial advisors faced with complex paperwork approval processes and regulatory compliance. Together, Forms Logic and SIGNiX will make it quicker and easier to onboard clients, facilitate transactions and perform other processes. Users will be able to digitally input information into a PDF that can automatically populate related digital documents for a specified workflow. A client can then securely and compliantly sign documents from virtually any device.
SIGNiX's Independent E-Signature™ technology permanently embeds the legal evidence of a signature into a signed document, where it can be accessed with any free PDF viewer. Because there is no reliance on SIGNiX to access legal evidence, users have complete ownership, control and transparency of documents—which ensures security and longevity.
"Forms Logic shares our passion for replacing manual paperwork with the efficiency of automated processes. We are pleased to support their mission by allowing documents to be signed online," said Jay Jumper, CEO of SIGNiX.
About Forms Logic:
Forms Logic Software is a cloud-based system for companies looking to integrate single data entry across multiple forms. They recognize the challenges inherent in managing paperwork that require inputting the same data among multiple forms. Using this software, companies can easily complete highly regulated industry paperwork, creating a friendly client onboarding experience. Learn more at http://www.formslogic.com.
About SIGNiX:
SIGNiX, the most trusted name in Independent E-Signatures™, makes signing documents online safe and secure with comprehensive legal evidence permanently embedded in each document to eliminate any dependence upon SIGNiX. The company's cloud-based service uses patented technology to give businesses and organizations the most secure and legally defensible e-signatures available at a fraction of the cost of wet ink signatures. SIGNiX's products help the world's leading companies become more efficient, decrease risk and boost profits. For more information, visit http://www.signix.com. You can also follow up on Twitter @signixsolutions, LinkedIn, Facebook and Instagram.