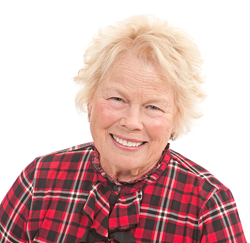 This is our way of recognizing the people who work with our organization to bring meetings and events to our area.
Traverse City, MI (PRWEB) December 11, 2015
Karin Flint, creator of Traverse City's Flintfields Horse Park, has been named a "Community Champion" by Traverse City Tourism for her work with local equestrian shows. She received the honor Wednesday evening during Traverse City Tourism's annual meeting.
A native of Harbor Springs, Flint lived for 42 years in Bloomfield Hills, where she spent seven years running the Detroit-Motor City Horse Show before deciding to move north and work on a new Traverse City event called Horse Shows by the Bay.
In 2007 she bought an 84-acre piece of property and christened it "Flintfields." The horse park served as headquarters for Horse Shows by the Bay, which brought an estimated 9,000 visitors and $12 million in spending to the Traverse City area each year over the next seven years.
This past year the horse park become home to a new event: the four-week Great Lakes Equestrian Festival, which brought 1,200 horses, 900 riders and hundreds of spectators and staff to the area during July. The 2016 festival is being expanded to seven weeks, a July 6-31 series and another Aug. 10-28.
"Karin has demonstrated great vision and an incredible commitment to developing a fantastic equestrian facility at Flintfields," said Brad Van Dommelen, President and CEO of Traverse City Tourism. "We are very pleased to present her with our Community Champion award for 2015 and are very excited about the future of Flintfields."
Traverse City Tourism launched the Community Champions program in 2006 to promote new convention and meeting business by recognizing local men and women who have worked with the organization to bring meetings, conventions and other events to Traverse City.
Tourism is a key economic driver for the Traverse City area, employing over 12,000 local residents and injecting $1.2 billion per year in direct spending into the area economy. Visitors spend money in hotels, restaurants, wineries, shops and other businesses, adding to the economic vitality of the community.
"This is our way of recognizing the people who work with our organization to bring meetings and events to our area," said TCT Vice President Tori Piersante. "We hope it also encourages other members of our community to use the influence they might have through their membership in various groups and associations to do the same thing."