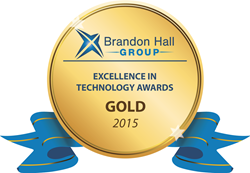 Elkridge, MD (PRWEB) December 10, 2015
ANCILE Solutions, Inc., the global leader in software adoption solutions chosen by more than 4,400 organizations and over half of the Fortune 100, won a coveted Brandon Hall Group Gold award for excellence in the Best Advance for Performance Support Technology.
The ANCILE award submission, Creating, Delivering, and Measuring Prescriptive Performance Support with ANCILE uAlign®, highlights how user adoption of software requires the active push of bite-sized learning content to support the multiple moments of understanding that software users need. Combining both the pull and push of learning content, or 'prescriptive performance support', is critical in achieving user adoption.
ANCILE uAlign allows organizations to push information in order to achieve and sustain user adoption from project visualization to performance optimization. Stakeholders can ensure accountability and confirm user understanding before, during, and after software rollouts or process changes. End users get "just-in-time" communications that they can 'favorite' and return to later to pull help. Unlike other content or communication delivery software (e.g., email, LMSs), ANCILE uAlign allows all levels of stakeholder to prioritize and share critical information and receive validation of user understanding, and gives business leaders the analytics needed to ensure comprehension and change readiness.
"We're very proud to have ANCILE's products recognized with this latest award from Brandon Hall Group, our tenth award in this program," said Frank Lonergan, ANCILE CEO. "Helping our customers ensure adoption of their software investments is our mission, and this award highlights the importance that businesses place on enabling their employees."
Learn more about one of the success stories featured in the award-winning submission.
"These award-winning solutions were closely evaluated by our judges for not only their innovation, but the real results they brought to the organizations," Brandon Hall Group Chief Executive Office Mike Cooke said. "That is what makes our technology awards program special – connecting creativity and innovation to direct business results."
A panel of veteran, independent senior industry experts, and Brandon Hall Group senior analysts and executives evaluated the entries based on a product's breakthrough innovations, unique differentiators, what problems it solves and what the benefits are for customers.
The winners are listed at http://www.brandonhall.com/excellenceawards/excellence-technology.php?year=2015.
About ANCILE Solutions, Inc.
ANCILE Solutions, Inc. provides solutions that enable organizations to realize the full potential of their technology investments by creating, delivering, and sustaining moments of understanding that drive user adoption across the entire software lifecycle. ANCILE's award-winning solutions, including ANCILE uPerform®, ANCILE uAlign®, ANCILE uGuide™, and ANCILE uLearn™ have been chosen by over 19 million users and more than 4,400 customers across the globe, including half of the Fortune 100. For additional information, please visit http://www.ancile.com.
About Brandon Hall Group, Inc.
With more than 10,000 clients globally and 20 years of delivering world class research and advisory services, Brandon Hall Group is the most well-known and established research organization in the performance improvement industry. We conduct research that drives performance, and provides strategic insights for executives and practitioners responsible for growth and business results.
Brandon Hall Group has an extensive repository of thought leadership, research and expertise in Learning and Development, Talent Management, Leadership Development, Talent Acquisition and Human Resources. At the core of our offerings is a Membership Program that Empowers Excellence Through Content, Collaboration and Community. Our members have access to research that helps them make the right decisions about people, processes, and systems, combined with research-powered advisory services customized to their needs. (http://www.brandonhall.com).