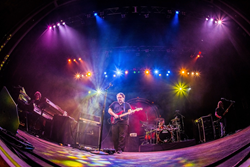 "The Machine duplicates the sound and hits of Pink Floyd with chilling accuracy." - Rolling Stone
Fairfield, CT (PRWEB) December 09, 2015
Floyd music on Saturday, Dec. 26 and Talking Dreads featuring Mystic Bowie on Sunday, Dec. 27.
There's no one better equipped than The Machine when it comes to celebrating the music of Pink Floyd. America's top Pink Floyd show has forged a 25-year reputation of excellence extending the legacy of Pink Floyd, while creating one of their own. The Machine visits The Warehouse with their intergalactic lightshow consisting of stellar state-of-the-art lighting, lasers, video, and sound on Saturday, Dec. 26.
Talking Dreads is the brainchild of Mystic Bowie, whose long and close relationship with Chris Frantz and Tina Weymouth (Talking Heads and Tom Tom Club) has allowed for this reggae-pop hybrid. It's fun, familiar, and undeniably good.
Talking Dreads began as a project born from the bold notion that hardcore Heads-lovers wouldn't mind a tinkering of their favorite Talking Heads tunes. Since then, the project has turned into a global-touring project, most recently so at the High Times Cannabis Cup in Jamaica.
All classics. All weekend.
The show details are as follows:
The Machine at The Warehouse at FTC
Date: Saturday, Dec. 26
Doors: 8 p.m., Show: 9 p.m.
Tickets: $38 GA
Talking Dreads at The Warehouse at FTC
Date: Sunday, Dec. 27
Doors: 8 p.m., Show: 9 p.m.
Tickets: $25, Members: $20
About Fairfield Theatre Company:
Fairfield Theatre Company is a highly-acclaimed nonprofit performing arts organization located in the heart of downtown Fairfield, Connecticut. FTC presents nearly 200 performances and concerts each year featuring outstanding national talent on FTC's StageOne in Fairfield, the Klein Auditorium in Bridgeport, and the Norwalk Concert Hall FTC's intimate 225-seat StageOne venue is widely recognized as being one of the best places to see a live performance in the region. FTC is dedicated to providing the highest quality arts, entertainment, and educational experiences to the communities we serve.