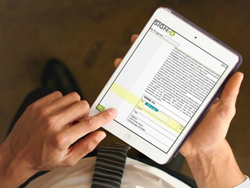 Plus, this partnership will allow organizations to reap the benefits of e-signatures without having to seek out a third party provider—bringing efficiency full circle.
CHATTANOOGA,Tenn. (PRWEB) December 10, 2015
SIGNiX, a leader in cloud-based digital signature and authentication services and provider of Independent E-Signature™ solutions, announced today that it has partnered with Treeno Software, Inc. to allow companies the ability to manage and sign business documents online through cloud-based technology.
Treeno Software is a leader in Enterprise Document Management (EDM), providing a secure Treeno EDM Cloud solution that allows businesses to effectively and efficiently capture, store, access and manage documents online. Treeno Software serves a variety of industries, including financial services, real estate, manufacturing, healthcare, legal, education and local government.
The SIGNiX and Treeno Software partnership provides a fully digital document management system for transactions that require internal or external signatures. Companies can now eliminate time- and budget-sensitive print-mail-and-scan paper heavy procedures and embrace digital signing capabilities.
"Many of our customers use our EDM solution to manage human resources documents and other high-volume paper processes that require signatures from outside the organization. Integrating SIGNiX's technology with our own makes those transactions more convenient, secure and affordable," said Steve Tentindo, president and CEO of Treeno Software. "Plus, this partnership will allow organizations to reap the benefits of e-signatures without having to seek out a third party provider—bringing efficiency full circle."
Companies will also benefit from fully secure and compliant encrypted digital technologies. Treeno Software's cloud-based EDM solutions use a Class "A" SAS 70 Type II hosting facility with advanced firewalls and intrusion detection systems. SIGNiX's Independent E-Signatures™ use Public Key Infrastructure (PKI) technology to permanently embed the legal evidence of an e-signature into a document, which is accessible with any free PDF reader – with or without an Internet connection. As such, users experience the highest levels of e-signature security and can readily prove a signature's legal validity, forever.
"Security is top-of-mind for any business using cloud-based technology," said Jay Jumper, SIGNiX's president and CEO. "The collective security strengths of SIGNiX and Treeno Software – which include tamper-evident technology, identity authentication services, comprehensive digital audit trails and high level encryption – will give businesses complete confidence that their documents will be fully protected and compliant with industry regulations."
About SIGNiX
SIGNiX, the most trusted name in Independent E-Signatures™, makes signing documents online safe and secure with comprehensive legal evidence permanently embedded in each document to eliminate any dependence upon SIGNiX. The company's cloud-based service uses patented technology to give businesses and organizations the most secure and legally defensible e-signatures available at a fraction of the cost of wet ink signatures. SIGNiX's products help the world's leading companies become more efficient, secure, profitable and – by reducing the use of paper – environmentally friendly.
For more information, visit http://www.signix.com. Anyone interested in forming a partnership with SIGNiX to implement the best independent e-signature service for their business can visit http://www.signix.com/digital-signature-partnership, or call
877.890.5350.
About Treeno Software
Established in 2002, Treeno Software is a leader in the Enterprise Document Management (EDM) industry. Treeno Software was one of the industry's first to embrace cloud computing with the Treeno EDM Cloud (SaaS) and to provide web-based solutions offering secure global information access. Treeno Software's mission is to provide their customers with operational workflow efficiencies and measurable return on investment through the fast installation and implementation of their fully secure, highly reliable, and easy-to-use, web-based Enterprise Document Management Solution. For information on Treeno Software, visit http://www.treenosoftware.com.