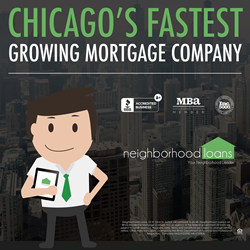 CHICAGO, IL (PRWEB) January 07, 2016
Neighborhood Loans continues exponentially growing, emerging as a dominant presence within the Residential Mortgage community. Adding to its impressive accolades, Neighborhood Loans has recently accomplished the highly sought-after designation of becoming a Full Eagle FHA Direct Endorsed Lender.
This accomplishment enables the decorated Chicago based HUD Approved Mortgage Lender to underwrite FHA loans in-house. This is yet another milestone for a company who has been named by INC 5000 as the Fastest Growing Residential Mortgage Lender in Illinois and the third Fastest Residential Mortgage Lender in America. This growth is a result of the in-house initiative across multiple aspects of the organization, pioneered by Reno Manuele and Tony Ameti, the President and CFO respectively.
Bringing various components of the mortgage loan process in-house has allowed Neighborhood Loans to streamline the mortgage process to better service the needs of its clients. This initiative also reduces turnaround times, making the dream of homeownership a reality quickly and transparently.
The designation of becoming Full Eagle FHA Direct Endorsed Lender is only granted to Residential Mortgage Lenders who exemplify and abide by the standards set forth by The Department of Housing & Urban Development (HUD). Neighborhood Loans is proud to have built a foundation that is in accordance with HUD requirements, as this accomplishment is a direct representation of the company's dedication to quality and industry leading standards.
About Neighborhood Loans:
Neighborhood Loans is a Residential Mortgage Lender utilizing a business model aimed at educating and enabling consumers in a rapidly changing market. It is this very business model that has helped this company realize unparalleled success since its inception in 2005. The organization has been recognized by INC 5000 as one of the Fastest Growing Companies for three consecutive years since 2012. This growth is a direct result of a customer service based business model supported by talented and driven team.
Reno Manuele serves as the President of Neighborhood Loans. His leadership has been recognized by numerous accredited publications. He has been named "40 Under 40 Most Influential Mortgage Professionals in the Nation" by the National Mortgage Professional Magazine as well as "Who's Who" by the Chicago Agent Magazine in 2012 and 2013 consecutively.
Tony Ameti serves as Neighborhood Loan's Chief Financial Officer. His industry expertise coupled with his keen ability to translate market expansion strategies into an aggressive yet feasible fiscal plan is evident in the immense success Neighborhood Loans has experienced.
With the recent designation as a Full Eagle FHA Direct Endorsed Lender, Neighborhood Loans can better service their customer base by offering a more streamlined mortgage process.
SOURCE Neighborhood Loans, Inc.
https://neighborhoodloans.com/