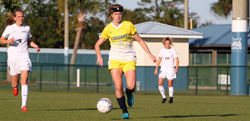 Spring Arbor, Mich (PRWEB) December 11, 2015
After helping lead the Spring Arbor University women's soccer team to its first ever NAIA national title, freshman midfielder Bethany Balcer (Hudsonville, MI/Unity Christian) has been named the 2015 NAIA Women's Soccer National Player of the Year.
Balcer becomes not only the first SAU Cougar to win the award, but also the first freshman since the award's inception in 1997.
Balcer, who also became the program's first-ever NAIA All-American First Team selection, rewrote the SAU record books in her rookie campaign. Her 73 points and 30 goals shattered the team's previous all-time best marks. She finished the season ranked first in the nation in game-winning goals, with 12. She also ranked within the top-10 in points, goals and assists (13).
The Hudsonville, Michigan native was unstoppable in the national tournament, scoring five times en route to earning Most Valuable Player honors.
In addition to Balcer, five other Cougars received All-American recognition. Senior Sarah Yancer (Freeland, MI/Freeland) and sophomore Aubrey Schierbeek (Hudsonville, MI/Unity Christian) were named Second Team while junior Corrie Good (Caledonia, MI/Caledonia) was selected to the Third Team. Earning Honorable Mention honors were senior Shannon Balcer (Hudsonville, MI/Unity Christian) and sophomore Sarah Klunder (Grandville, MI/Calvin Christian).
Yancer capped off her stellar career by earning her second straight All-American honor after garnering a Third Team selection in 2014. The standout goalkeeper posted 11 shutouts this season, giving her an astounding 38 for her career–a program record. She made 70 saves and owned a 0.73 goals against average which ranked 19th in the country. The Freeland, Michigan native did not allow a single goal during the Cougars' championship run to earn the tournament's Outstanding Defensive Player award.
Schierbeek followed up her impressive freshman campaign with an even better sophomore year. The forward from Hudsonville, Michigan ranked second on the team with 14 goals this season while also dishing out 11 assists.
Good, who was an All-American Honorable Mention last year, proved to be not only one of the most dynamic players in the Crossroads League, but also in the nation. She helped the Cougars set a new program record for goals scored in a single-season with nine tallies this year while also adding 10 assists. Through three seasons, Good has notched 27 goals and 23 assists.
Balcer and Klunder both earned their first All-American honors. Both were instrumental parts of a Cougar defense that recorded 15 shutouts, including 10 straight to close out the season. Balcer, a midfielder from Hudsonville, Michigan, also chipped in one goal and three assists while Klunder was credited with a team-best 16 assists from her center back position.
Spring Arbor finished the season with a 23-2-1 record–the most wins in program history. The Cougars also ended the season on a SAU record 19-match winning streak.