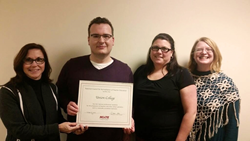 "Knowing that our model for educator preparation has reached a stage of national acceptance fuels the fire we have to move beyond just sustainability and steadiness," Dr. Reeves said.
Barbourville, KY (PRWEB) December 10, 2015
Union College was officially notified this week that its education program has been granted national accreditation, a major step in advancing education throughout its service area. The national standard is something that only half of the post-secondary institutions in the state have achieved.
Dr. Jason Reeves, Dean of the Union College Educational Studies Unit, announced the news to the campus community through email.
"This afternoon, our Educational Studies Unit received its official proclamation from the National Council of Accreditation for Teacher Education (NCATE) that our undergraduate and graduate programs have received the national seal of approval for excellence in teacher preparation," Dr. Reeves said. Reeves was notified of the national accreditation in October, but the process was not made official until this week. The NCATE will be assisting Union in implementing policies pertaining to the national accreditation.
"The approval of the national Council of Accreditation of Educator Preparation is the latest of several testaments to the incredible efforts of Union College faculty, staff, students and its P-12 partners across the state to prepare highly qualified and sought after teacher leaders in the education field," Dr. Reeves said.
Union's education program underwent a review process early this spring setting the stage for national accreditation. Now that the accreditation has been issued, education graduates from Union will be able to seek certification to teach anywhere in the nation. Dr. Reeves said that standard is a great recruitment tool for Union, offers great potential for Union graduates entering the job market and displays the level of excellence at which Union prepares teachers.
"Knowing that our model for educator preparation has reached a stage of national acceptance fuels the fire we have to move beyond just sustainability and steadiness," Dr. Reeves added. "We want to forge new trails in education using machines of imagination, collaboration and cooperation."
This is the first time Union College has sought national accreditation for its program. Dr. Reeves said the move is not a requirement, but something Union sought to do in order to develop a higher overall standard for the program.
"We elected to hold ourselves to these national standards and are fortunate to have the policy and processes in place to meet those standards," he said.
Union's Educational Studies Unit is accredited at the state level through the Kentucky Education Professional Standards Board. Further, the Kentucky Center for Education has recognized Union's educational program as being the 4th top-ranked program in the state for preparing its teachers for the workforce. Retention of those Union educated teachers among Kentucky schools was also among the highest of the 28 post-secondary institutions in the state. Reeves said all of the accolades combine to define Union's ability in educating and preparing teachers like no other.
"President Kennedy once remarked that 'a rising tide raises all ships.' With intentional support of our internal and external partners, the Educational Studies Unit has unlimited potential to be the tide that raises the many ships needed to advance P-12 student success," Dr. Reeves said.
Dr. Reeves says national accreditation of the program will have an immediate effect on Union students pursuing a degree in education.
The Educational Studies Unit at Union College offers initial teaching licensure programs in the concentrations of elementary, middle, secondary education, health and physical education. The program also offers advanced graduate programs, including online components, in several program emphasis areas for its Teacher Leader Master's Degree and Rank I program.
To learn more about Union College's Educational Studies Unit, visit http://www.unionky.edu