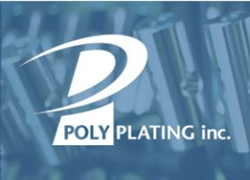 Poly-Plating's submission for an MAF for its proprietary Poly-Ond® process has been accepted by the FDA.
Chicopee, MA (PRWEB) December 09, 2015
Poly-Plating, Inc., an innovative metal plating facility located in Chicopee, MA, has made its Device Master Files (MAFS) available for those seeking a Premarket Application (PMA) or 510(k) approval for medical devices with the Food and Drug Administration.
Poly-Plating's submission for an MAF for its proprietary Poly-Ond® process has been accepted by the FDA.
MAFs are repositories of confidential information used in support of a PMA or 510(k) submission. To help preserve the trade secrets of the ancillary medical device industry and at the same time facilitate the sound scientific evaluation of medical devices, the FDA established the device master file system.
Those seeking FDA approval for a device that utilizes the Poly-Ond® process may request authorization from Poly-Plating to allow information in the MAF to be submitted as part of the approval process.
Poly-Plating, Inc. is a cutting-edge, innovative nickel and metal plating company based in Chicopee, MA. The company excels in the plating of precision parts for an array of industries worldwide including military, mold-making, and medical applications. Along with the proprietary Poly-Ond®, company processes include Sulfamate and Electroless nickel plating.
Founded in 1976, Poly-Plating is a family-owned business now in its second generation of ownership and management. The company has enjoyed continued success through technological innovations such as the development of Poly-Ond®, a proprietary dry, durable, and slippery coating that offers a range of unique performance properties unmatched by any other metal plating technology.
The letter outlining the assignment of a MAF for Poly-Ond® Coating is available through the company website at poly-ond.com.
In 1983, Poly-Plating received approval from the USDA for the use of its Poly-Ond®process for use as a component part of food processing equipment.
Poly-Plating also offers black nickel plating services for custom projects. The company has developed a unique process and product for black nickel plating on new products and for the repair and refurbishing of used parts and antiques. Poly-plating works with both private collectors and manufacturers to plate new products and restore others to show condition.
Poly-Plating, Inc has a long-standing record of environmental stewardship, earning a design patent for a groundbreaking diffusion dialysis system that allows for the recycling of large volumes of contaminated acids. Through its Zero Discharge Technologies subsidiary, Poly-Plating, Inc offers Electro-Dialysis systems for purification of Electroless Nickel Plating baths.
For more information on Poly-Plating, Inc, call (413) 593-5477 or visit http://www.poly-ond.com. An informational video on the company's proprietary Poly-Ond® process is available at http://www.facebook.com/polyplating.