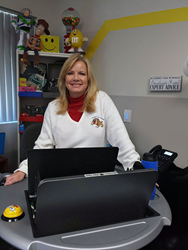 I love being able to teach from any part of my classroom— Jean Cavanaugh
Baltimore, Maryland (PRWEB) December 10, 2015
Folsom High School just opened their vanguard open plan collaborative learning classroom, bringing accolades from students, administrators and faculty. SMARTdesks Pi Collaboration Tables won the favor of the Folsom educators and IT Integrators, and the flexibility of the Pi furniture design is inspiring the learning process.
In order to teach computer science, computer game design, and robotics effectively, teacher Jean Cavanaugh knew that she had to upgrade her traditional computer lab outfitted with outdated computers and rows of static desks to something that would allow her students to excel. Cavanaugh found the solution when she discovered SMARTdesks' collaborative learning desks which promote interactive learning and flexible arrangements in the classroom.
Together, the SMARTdesks Design Team and Folsom High School administrators developed floor plans and chose furniture best suited to their teachers, students, and technology-driven curricula. Throughout the process, they discussed how to achieve the high-tech work environment the school desired, and then selected collaboration furniture which would satisfy the school's academic vision, esthetics, and budget.
SMARTdesks Pi Collaboration Tables equipped with flipIT monitor displays enable the Folsom High School students to collaborate with their peers, use their computers, draw sketches and build prototypes simultaneously. Each desktop offers ample space to use print and modeling materials next to a computer screen. Students are currently using this additional workspace to program electronic code while assembling NAO robots from Legos kits.
Cavanaugh arranged the flexible Pi Collaboration Tables into learning pods, each featuring four individual workstations. The tables' arrangement can easily be changed to form circles or rows to accommodate specific teaching and learning styles. Additionally, SMARTdesks' mobile, height adjustable Qstar Computer Table serves as the new teacher's desk, and Cavanaugh can give instructions to students while standing or sitting anywhere in the room. She can roll the Qstar over to the learning pods and help her students with their projects at any time. SMARTdesks' innovations transform the traditional classroom environment into a model of empowerment.
The benefits of collaborative learning furniture encourage students to work cooperatively and to take initiative in the development of complex ideas. The open plan classroom, in concert with SMARTdesks' advanced, flexible technology furniture, has changed the classroom dynamic. Research has shown that inquiry and project-based learning improves scholastic achievement. Collaboration furniture accelerates communication and engagement with educational material. Folsom High Principal Howard Cadenhead appreciates how the Pi tables "facilitate collaboration and academic conversation as opposed to the traditional lab model." The redesign of their computer lab encourages full immersion in inquiry-based learning that is central to a 21st century education.
Cavanaugh said, "What the SMARTdesks allow me to do, for the first time in 20 years, is to get rid of 'the front of the room.' I love being able to teach from any part of my classroom and the movement and flow of the extra space around the desks allow me to get to the students quicker than in my old lab. Students feel like they are the focus of the room."
Student feedback on their new learning space has also been overwhelmingly positive. Senior Dane Leineke was impressed with not only the quality of SMARTdesks' new technology furniture, but also feels a renewed sense of enthusiasm to learn. She said, "I've had Ms. Cavanaugh for three years now. Before the changes to her classroom, it was dull and boring – nothing special. Now, every day I step into her classroom, I feel like I'm a Google employee arriving for another day on the job."
SMARTdesks designs and manufactures innovative, custom computer conference tables and computer classroom furniture. Each product is made to order, nuanced for the technology, purpose and interior design choices for the space. SMARTdesks is the patent holder for flipIT® products and is the sole source for flipIT and factory integrated flipIT furniture products. Serving universities, corporations, government and military clients world-wide, SMARTdesks furniture is made in the USA using Certified GREEN manufacturing methods. For more information, contact smartdesks through the web site— http://www.smartdesks.com