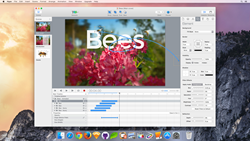 San Francisco, CA (PRWEB) December 09, 2015
The new version of Tumult Hype continues its tradition as a best-of-breed HTML5 animator by adding features for graphic designers to utilize web trends without code. It is available today as a free upgrade for customers of version 3.0 Standard and Professional editions.
News of this release coincides with Adobe discontinuing Edge Animate, their tool for composing similar HTML5-based animations. This solidifies Tumult Hype as the premier tool for composing animated and interactive content utilizing bleeding edge web technologies.
Tumult Hype 3.5 contains new features that will push a designer's capabilities forward. Waypoint Actions allow animations and events to be triggered when a visitor scrolls to specific points within a page. Backdrop Filters emulate iOS-style layer blending and blurring for effective mobile app prototyping. New Flexible Layout modes allow documents to better adjust to the wide variety of device sizes designers are required to support.
Tumult Hype 3.5 also integrates access to Monotype's Fonts.com font library. This adds over 50,000 web fonts which enable creative expression and give brands a distinct global voice. These fonts are easily added to documents and users can login with Fonts.com credentials to properly license the fonts for export.
The role and responsibilities of online advertisers has been a controversial subject lately, with ire directed towards bloated ads that reduce performance and battery life of mobile devices. Tumult Hype has had a tradition of producing content with minimal requirements. Version 3.5 Professional adds an Advanced Export feature allowing users to further customize content to reduce footprint. It also now makes use of an optimized method for rendering animations to use less CPU power. These features make Tumult Hype an ideal tool for Rich Media ads.
"We built version 3.5 to tackle the biggest hurdles facing graphic designers," says Jonathan Deutsch, CEO of Tumult Inc. "Along with features like Waypoint Actions and Backdrop Filters, we took a close look at how designers use Tumult Hype. Improvements were made across the board on every aspect from making smoother animations to improving keyboard shortcuts professional users have come to expect. This release marks the realization of our early visions of what an animation tool could be."
A list of the top 3.5-specific information, can be found at:
http://tumult.com/hype/whats-new/3.5/
Tumult Hype is primarily targeted at designers wanting to add effects to their sites, developers who need to make content for iOS devices, and HTML5 coders looking for more effective ways to improve interactivity. It supports the latest HTML5/CSS3 features and uses an intuitive keyframe-based animation system with a recorder to create impressive motions and transitions. No coding is required, though animations can be extended through a Javascript API. Tumult Hype has been used by publications such as the LA Times, Washington Post, and Reuters for infographics, advertising agencies for animated ads, K-12 and higher education to create interactive lessons, NASA to show exploration roadmaps, ePub/iBook authors, and by many designers adding a "wow"-factor to their sites.
Tumult Hype 3.5 and Hype Professional are sold on the Mac App Store and the Tumult Store. Tumult Hype 3.5 is a free upgrade for Hype 3.0 owners, Standard or Professional editions. For new customers, Tumult Hype 3.5 is available for $49.99 USD. Hype Professional is offered as an In-App Purchase for and additional $49.99 USD or the full version can be purchased for $99.99 USD. More product information, a 14-day free trial, and a store link can be found at:
Tumult Inc. was founded in 2010 by ex-Apple employees whose mission is to make the next generation of tools to produce beautiful web sites and apps. Tumult Inc. is funded by Y Combinator as part of the Winter 2011 class.