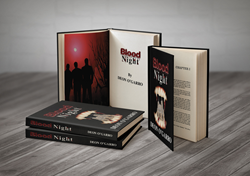 (PRWEB) December 21, 2015
Creative and inspirational writer Deon O'Garro announces the debut of "Blood Night" on Amazon and CreateSpace. The new novel unearths the mystery and reality of the imagination. Its narrative embraces the essence of all humanness through eccentric, yet convenient, circumstances.
Some believe in the myth of vampires who live among us and adapt to the times as their need to live exceeds their need to survive. "What if that was true?" asks O'Garro. "Blood Night" is gripping with formidable characters displaying their cynical, violent behaviors.
Every thousand years, when the color of the moon changes and its crimson appearance filters through the atmosphere, casting an eerie light that turns the earth blood red, the vampires prepare for one night and one night only. Humans call it the blood moon, but to the predators it is known as blood night. On this night the vampire leader awaits the birth of a child who will one day rule and change the life cycle of the dead leaders. This will also deprive any young vampire from becoming the future leader. While the leader and senior vampires prepare for the coming of blood night, a group of young vampires plans to slaughter both mother and child, before it exits the womb. Anyone who tries to stop them, they will kill. Anyone who tries to escape, they will hunt.
"Blood Night" is now available on Amazon and CreateSpace. For more information, please visit http://www.deonogarro.com or contact the author at change3366(at)gmail(dot)com.
About the Author
Deon O'Garro has been working toward publication for the past three years while operating as an entrepreneur. His multifaceted use of styles and genres is displayed in his work. As a gifted writer, he hopes to bridge the gap between what you know and what is imaginary.
The book is available on Amazon.com, $11.99 for paperback and $6.99 for the ebook.