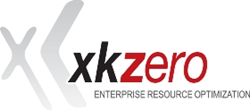 xkzero Mobile Commerce will be relied upon to satisfy mission critical processes such as truck loading for both bulk and packaged orders, route selling and direct store delivery automation.
Chicago, Illinois (PRWEB) December 15, 2015
B2B mobile software publisher xkzero announced today that Apollo Oil has chosen xkzero Mobile Commerce (XMC) as its next generation technology to manage and automate their Direct Store Delivery and Route Sales business processes.
Apollo Oil is a major distributor of Automotive, Fleet Oil and Greases, and Industrial Lubricants servicing thousands of commercial customers throughout the Ohio Valley states of Kentucky, West Virginia and Ohio, deploying a fleet of over 30 trucks and driver representatives.
WAC Solution Partners, a leading Sage North America business partner, is currently implementing Sage X3 to replace Apollo Oil's legacy ERP and accounting system, and is collaborating with xkzero for a seamless integration of data and business processes between the new Sage X3 system and xkzero Mobile Commerce.
"Together with Apollo we began evaluating xkzero at Sage Summit 2015 in New Orleans, as an initiative to replace the existing custom built mobile solution", said Steve Schaefer, Partner of WAC. "XMC will be relied upon to satisfy mission critical processes such as truck loading for both bulk and packaged orders, route selling and direct store delivery automation. Apollo also expects to create improved workflow and accounting for inventory control, route planning and payment handling."
"Apollo was searching for a system to allow anytime, anywhere processing to better serve our customers with each and every interaction", said Ed Dotson, Chief Financial Officer of Apollo Oil. "We discovered xkzero at Sage Summit 2015 in New Orleans and their combination of modern mobile technology along with their expertise as Sage X3 developers gives us a very high level of confidence for this project."
About xkzero
xkzero builds industry leading mobile sales and delivery automation software applications for mid-sized and growing small manufacturers and wholesale distributors, specializing in integration to popular ERP and accounting systems such as Sage 100, Sage X3 and Sage 500. http://www.xkzero.com
About WAC Consulting
WAC Solution Partners, formerly WAC Consulting Group, specializes in implementing, customizing and supporting ERP software for small to mid-sized businesses. We have expertise in accounting software, warehouse management software, manufacturing software, distribution software, CRM software, reporting and business intelligence software, edi solutions, point of sale (POS) solutions, HR / Payroll software and eCommerce software. With clients ranging from the apparel industry, hospitality industry, food and beverage distributors, to pharmaceutical companies our consultants have a wide range of industry knowledge and expertise. We are headquartered in Northborough, Massachusetts and have 12 regional offices across the country. Today we are serving customers in over thirty states across the US. http://www.wacinc.com