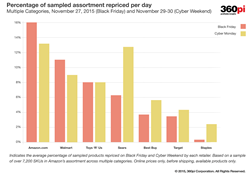 Nearing the halfway mark this season, the looming threat becomes balancing competitive prices with inventory and leveraging in-store stocks strategically.
(PRWEB) December 09, 2015
Ottawa, Canada: 360pi today announced the release of its latest Holiday Insights report series, Amazon's Cyber Monday, an analysis of the biggest online shopping day in e-commerce history. Highlights from the report include the following:

Amazon maintains aggressive pricing, especially on its best sellers
According to 360pi's analysis, on November 30, Amazon was much more price-aggressive on its best sellers than on the larger sample of 12,000 products. This was especially noticeable in the categories of movies/music/games, where 91% of its "best-selling products" were priced the lowest or same as lowest when compared to competing retailers*. Other price-aggressive categories included electronics/computers, sports/outdoors, toys/games and home, garden and tools.
*Retailers used for comparison included Best Buy, Sears, Lowe's, Walmart, hhgregg, Office Depot, Dick's Sporting Goods, Home Depot, Target, Staples, B&H Photo Video, Toys "R" Us, TigerDirect.com, Newegg.com, and Rakuten.com.
Retailers' strategies for this major shopping weekend varied widely
With many products already significantly discounted on Black Friday, retailers approached Cyber Monday in different ways. Some of the retailers in 360pi's sample, like Amazon and Walmart, employed dynamic pricing more extensively on Friday versus Monday. Others repriced even more products on Monday than they did on Friday, which may be related to overall strategy or signal that these retailers had excess inventory.
Tablets and laptops assortment considerably less expensive; toy inventory in free fall following Black Friday
On Cyber Weekend, Amazon's overall assortment of tablets and laptops became less expensive (when compared to the beginning of 2015 and back-to-school season) with over 65% of product falling under $500 and only 2% of products being sold for over $2,000. In the toy category between November 26 and December 2, 360pi reports a dramatic free fall of inventory levels of the most sought-after toys according to Amazon.com. Both Walmart and Target have entered December with less than half of these sampled products available for purchase online – potential indicators of strong sales leading up to this point and lost opportunities in the rest of the season.
"Nearing the halfway mark this season, the looming threat becomes balancing competitive prices with inventory and leveraging in-store stocks strategically," said Jenn Markey, VP of Marketing, 360pi. "Predicting fickle shopper sentiment presents a unique set of challenges and can either lead to out-of-stocks, damaging shopper loyalties, or merchandise overstocks. The latter creates 'end-of-season' clearance cycles, forcing even narrower margins in the coming weeks. These retailer-specific outcomes will become increasingly clear as the 'last shipping date before Christmas' nears."
These insights are apart of 360pi's third annual, award-winning Holiday Insights report series. The information was also included in 360pi's latest webcast, "Holiday Check-In," which is available on-demand to Holiday Insights subscribers. Also, be sure to attend 360pi's upcoming BIG Ideas session, Imitation is the Sincerest Form of Flattery: Learn from Amazon, at NRF 2016, where 360pi will share a comprehensive review of everything you need to know about the 2015 holiday season.
For more information about how 360pi's product and pricing solutions can help retailers and brands win this holiday season, please contact 360pi here.
About 360pi
360pi derives profitable insights from product and pricing big data to help leading omnichannel retailers, etailers, and brand manufacturers compete and win with shoppers. 360pi's customer base accounts for over $US200 billion in annual product sales and includes Ace Hardware, Build.com, and Overstock.com, along with several Fortune 500 consumer products companies. With the majority of in-store purchases being influenced online, 360pi helps retailers and brands successfully navigate the multi-channel landscape with real-time insight into who is selling what, where, when, and for how much. Ultimately, 360pi customers make smarter decisions faster to drive increased revenues and margins across all channels.