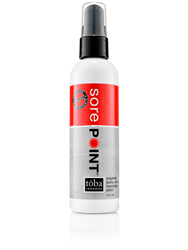 Only 8 percent of people surveyed report they achieved their New Year's Fitness resolution.
Long Island, NY (PRWEB) December 10, 2015
Toba Remedies of Long Island, New York has an organic remedy for people who resolved to get back in shape in 2016 but have not exercised any since January of 2015. "SorePoint" is a topical pain remedy made from 100% organic ingredients. Organic arnica promotes muscle relaxation, organic eucalyptus is an anti-inflammatory and pain reliever, and all while peppermint oil aids muscle cramps and spasms. It could be the difference in keeping a fitness resolution or not.
Number One New Year's Resolution
The number one thing resolved by Americans at the start of every year is to get in shape and/or lose weight. According to the AC Nielsen Company, fitness was the top resolution for 2015. Nielsen reported that 'stay fit and healthy' was chosen by 37% and 'lose weight' followed closely at 32%. In 2013, Forbes reported that only 8% of people achieve their New Year goals. Why people fail to keep these and other resolutions is somewhat known. Old habits die-hard, changing behaviors is not easy. But how many people quit on their resolution because of muscle soreness?
Un-Kept Do To Muscle Soreness
There are no statistics that cite the number of people who give up on their new exercise regimes because of muscle soreness, but it is reasonable to conclude that many do. "People who have not exercised vigorously or at all will experience muscle soreness when starting anew," said Dr. Tara O'Brien-Adkins who is the owner of Toba Remedies. "In fact, anyone starting a new exercise program in the New Year can just about count on delayed onset muscle soreness." This kind of soreness occurs because of tiny tears in muscle fibers. The more activity the more tears there are and the more sore/pained the athlete grows.
Ultimately, those tears grow back making the muscles stronger and adding stamina. It is getting beyond the intense soreness to that place of strength that is critical to fitness success in the New Year. "SorePoint may be the way to get beyond that level of intense discomfort to a reasonable level of fitness," Dr. Tara said. "The main benefit is relief from the pain that comes without the use of any synthetic chemicals."
Bad News and Good News
For those who embark on a new fitness regime, muscle soreness will be greatest within 48 hours of the workout, but will subside in a few days. Subsequent training sessions are less likely to result in severe muscle soreness because of increased strength and conditioning. "The more you exercise, the more your resistance to muscle soreness grows," Dr. Tara said "And the greater your tolerance for sore muscles the better shape you are in, so keep moving. To keep moving try SorePoint. It will help."
Consult A Physician
Of course people who have medical issues should always consult with a physician about any type of treatment. "SorePoint" is safe to use for almost everyone who wants to experience the healing benefits of organic products. To learn more about SorePoint and Toba Remedies, go to: http://www.tobaremedies.com.
To arrange an interview with Dr. Tara O'Brien-Adkins please contact haroldnicoll(at)gmail(dot)com or 979 292 8026.