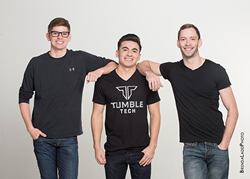 (PRWEB) December 11, 2015
Tumble Tech, a revolutionary competitive power tumbling and aerial sports gym, announced today the opening of its first location in the newly completed, state-of-the-art, Westlake Athletic & Community Center in Westlake Hills, TX. Tumble Tech was founded by Austin business woman, Danielle Wills, with a mission of bringing together the industry's top coaches with athletes of all levels, allowing athletes to pursue the goals of achieving individual excellence and improving every aspect of their lives, through tumbling and aerial sports.
As an an athlete-centered tumbling facility that focuses on individual athlete goals, Tumble Tech's professional coaching staff combines proper technique, strength training, and proven tumbling progressions to make each athlete the best they can be. Wills has recruited top local coaching talent to launch Tumble Tech. Program director, Josh Fredericks, has more than twenty Cheerleading National titles, and is a certified personal trainer. Marketing director and coach Geno Escobedo's many tumbling and cheer accomplishments include four NCA National Titles, and coach Morgan Richards, who's background includes tumbling, game day, All-Star cheerleading, STUNT and Parkour, was chosen as 2011 UCA Male Rookie of the Year for the Southwest region and was nominated three years in a row for Male Vet of the Year.
Tumble Tech staff strongly believe an athlete's success relies on a unified effort with parents, coaches and athletes. "I think it is important for our program coordinators and coaches to work closely with parents," said Danielle Wills, president of Tumble Tech. "Parents trust us with their most valuable possession - their children - and it's our job to create a positive environment, staffed by dedicated professionals, to ensure their children receive the training and support they expect."
Tumble Tech coaches and program coordinators recognize the risk and common injuries associated with aerial sports. They address these issues by implementing strength conditioning to reduce risk and prevent injury. It is the only gym to offer a free strength and conditioning class to its members, which focuses on strengthening joints such as the ankle, knee, wrist, elbow, and shoulder, to increase athlete longevity in these physically demanding sports.
For more information got to: http://www.tumble-tech.com
Media Contact:
Christian Scarborough
Inventive Public Relations
512-297-6426
christian(at)inventivepr(dot)net