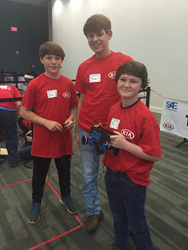 On behalf of all KMMG team members, we are excited to support another student celebration that promotes STEM education in our local community. - Randy Jackson, KMMG's senior vice president of human resources and administration
WARRENDALE, Pa. (PRWEB) December 11, 2015
Kia Motors Manufacturing Georgia (KMMG) and SAE International hosted 100 Middle School students from the Troup County School System at the Kia Georgia Training Center in West Point on Dec. 2, 2015 to celebrate student learning. These students had the opportunity to put their skills to the test during a Motorized Toy Car STEM competition. The Motorized Toy Challenge offers students an opportunity to come together and share what they have learned through their classroom experience. The Motorized Toy Challenge is set up as a friendly competition where students (in Engineering Design Teams of three or four) compete in 15° Ramp, 30° Ramp and speed events.
KMMG's generous donation to the SAE Foundation will support efforts in Georgia and Alabama to advance math and science education through SAE International's award-winning A World In Motion® (A WIM) program and ensure the technical competency of the future talent pool. The relentless pursuit of innovative, effective STEM education is made possible by corporations like Kia - innovation is a key component of the KIA mantra and A World In Motion exemplifies this in its curriculum design and delivery, as well as its ability to create the next generation of innovators.
"On behalf of all KMMG team members, we are excited to support another student celebration that promotes STEM education in our local community," said Randy Jackson, KMMG's senior vice president of human resources and administration.
About KMMG
Kia Motors Manufacturing Georgia, Inc. (KMMG) is the first manufacturing site in North America for Kia Motors Corporation based in Seoul, Korea. With an annual capacity of 360,000 units, KMMG is located on 2,200 acres in West Point, Georgia, and began mass production on Nov. 16, 2009. KMMG is home to the Sorento CUV and the Optima mid-size sedan, two of the brand's top selling models in the U.S.
About SAE Foundation
The SAE Foundation, the charitable arm of SAE International, encourages and increases student participation and achievement in science, technology, engineering, and math (STEM). It funds awards and scholarships as well as full continuum of K-16 STEM educational programs, including A World In Motion®, F1 in Schools, and the Collegiate Design Series™. SAE International is a global association committed to being the ultimate knowledge source for the engineering profession. By uniting over 148,000 engineers and technical experts, we drive knowledge and expertise across a broad spectrum of industries. We act on two priorities: encouraging a lifetime of learning for mobility engineering professionals and setting the standards for industry engineering.
About AWIM
SAE International's A World In Motion® (AWIM) program is a teacher-administered, industry volunteer-assisted program that brings science, technology, engineering and math (STEM) education to life in the classroom for students in kindergarten through grade 12. Benchmarked to the national education standards, AWIM incorporates the laws of physics, motion, flight and electronics into age-appropriate hands on activities that reinforce classroom STEM curriculum.

###