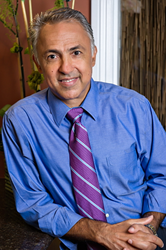 Beverly Hills, CA (PRWEB) December 09, 2015
Dr. Jean-Jacques Elbaz is pleased to announce that he now utilizes the high-speed BIOLASE WaterLase iPlus 2.0™ system at his Southern California dental practice. Individuals who would like to receive a consultation from an experienced periodontist in Beverly Hills, CA, who is committed to providing minimally-invasive care are invited to schedule an appointment with Dr. Elbaz.
As a trusted periodontist in Beverly Hills, CA, Dr. Elbaz encourages his patients to experience the difference laser-based procedures can make when it comes to the comfort and speed of dental treatments. The BIOLASE WaterLase iPlus 2.0™ system is able to cut through hard tissue with approximately twice the speed of a regular high-speed drill. It is also able to cut through soft oral tissue with ease and with minimal bleeding. It is a preferred method of treatment for many patients who have a variety of dental and periodontal needs. In some cases, Dr. Elbaz does not need to administer anesthetic to the patient prior to receiving treatment, as the BIOLASE WaterLase iPlus 2.0™ system is so gentle and efficient.
Laser-based treatments are being recommended more frequently for patients who have severe anxiety before and during their dental or periodontal appointments. In many cases, patients are just as nervous about being injected with anesthetic as they are about receiving their actual treatments. With the BIOLASE WaterLase iPlus 2.0™ system, patients may need a reduced amount of anesthetic, or no anesthetic at all. This can help reduce patient fear and nervousness. Treatments with the BIOLASE laser are also much quicker than standard methods, which means that patients are able to receive the treatment they need and get back to their daily responsibilities quickly and with minimal discomfort.
Individuals who need treatment for dental or periodontal issues are encouraged to make Dr. Elbaz their periodontist of choice in Beverly Hills, CA. Dr. Elbaz is committed to increasing patient trust and comfort during treatments by giving them the option to receive treatment with the BIOLASE WaterLase iPlus 2.0™ system as an alternative to more traditional procedures.
About the Doctor
Dr. Jean-Jacques Elbaz is a periodontist, offering personalized dental care to patients in Beverly Hills, CA. He earned a postgraduate Certificate in Periodontics and a Master of Science degree in Oral Biology from UCLA, while training under such well-known experts in the field of Periodontology as Drs. Fermin Carranza, Barrie Kenney and Henry Takei. Dr. Elbaz also received Diplomate status from both The American Board of Periodontology and The American Board of Oral Implantology/Implant Dentistry. Dr. Elbaz owns his own practice, The Beverly Hills Center for Advanced Dental Implants and Periodontology, where he offers specialty services, such as dental implants, periodontal treatment and laser therapy. To learn more about Dr. Elbaz and the services he offers, visit his website at http://www.drjjelbaz.com or call (310) 274-0456 to schedule an appointment.