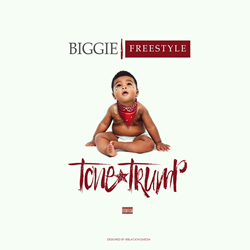 Philadelphia, PA (PRWEB) December 09, 2015
Today Coast 2 Coast Mixtapes announces the release of "Biggie Freestyle", the latest single release by Philly-born hip-hop artist Tone Trump . The single is currently available for streaming and download at the Coast 2 Coast Mixtapes website.
Tone Trump is currently seeking press opportunities, interviews, features, and more. He can be reached through his official Twitter page.
About Tone Trump: Abdul Sallam, better known by his stage name Tone Trump, is a Philadelphia-born Muslim rapper. Tone Trump was born Tony Brice in West Philadelphia and raised by a Muslim family, later changing his name to Abdul Sallam. His initial desire to be a professional basketball player ended after he was expelled from high school, so he focused his attention on his music. In 2007, Tone Trump teamed up with fellow Philadelphia-area rappers Jay Bezel and Hedonis da Amazon to produce an antiviolence single entitled "Every Day Is Crazy." One of Tone Trump's songs was chosen for the soundtrack for Close to Death, a documentary on urban gun violence by Philadelphia-based producers, getting him on the radar of a few major record labels.He also owns his own record label, Top Notch Entertainment. He was also a member of G-Unit Philly (with Mike Knox, Ive Vegas, Cotic) from 2007 till the end of 2008 but left the label because of feud with Mike Knox. In January 2010, Tone Trump made a collaboration with Black Wall Street's artist Nu Jerzey Devil called "What It Look Like."
His masterful hustle continued when the artist was cast in the Hollywood blockbuster "Creed". The movie, a spinoff of the amazing classic "Rocky", takes on the story of Apollo Creed's son. Tone was personally cast and written into the script by the astoundingly talented Director Ryan Coogler of the highly acclaimed Fruitvale station. Trump jumped at the opportunity and soon found himself co-starring in the film alongside Sylvester Stallone, Michael B. Jordan and Tessa Thompson. The movie grossed 42.6 million during the 2015 Thanksgiving day weekend and has received amazing reviews from fans and industry critics and professionals across the globe. In talks to become a 2016 Academy Award contender, "Creed" surpassed the new actors expectations and catapulted his rising star even further. After the release and during promotion, Tone found himself in a sea of new movie, product and television opportunities.
His most recent self-titled music release "TONY" is an epic ride exploring the artist's new sound, wave and life. Highly acclaimed and produced entirely by Smitti Boi. The artist turned actor continues to astound and amaze with his multiple talents and sales that rival his competitors in music and beyond.
Tone's notoriety has also set him up as the successful brand ambassador of major brands across the globe. From Coogi, In Shaa Allah Clothing, to his latest venture with Krak Kouture and Mint Clothing; entrepreneurs have discovered the value that Trump brings to their brands and not to mention their sales. A Literal Gold Mine, Philly rising star developed his own beauty products including the first release of his all natural Aziz Beard soap and he has added author to his resume' set to release his first book "15 Steps to Shine While You On The Grind" in 2016.
Realizing the influence that his success in music has created, Tone Trump is a pillar in his community offering himself and his philanthropic ideals to worthy causes heightening awareness to the plight of those in the inner city, of Philly and beyond. A speaker at many community oriented functions including a rally against Senseless violence at the Mayor's Office, Trump was featured on NBC, ABC, CBS, Fox News as a commendation for his selfless ways and commitment to uplifting his beloved community as evident in his hosting of "Philly Day" in conjunction with MTV Jams. He also initiated his first successful sock drive in Dec 2015 under his LetsWin Foundation, an organization that gathered the much needed and mostly forgotten undergarment for the homeless. For more info on Tone Trump, visit his official Facebook fan page.
About Coast 2 Coast Mixtapes:
Coast 2 Coast Mixtapes are the most widely distributed mixtapes in the world, with over 100 million downloads/plays generated by over 300 volumes officially hosted by major artists. Coast 2 Coast has a solid reach in the new music industry with a digital magazine, DJ coalition, industry tips blog, yearly convention, and more. Coast 2 Coast Mixtapes represents a unique opportunity for artists of all urban genres, from major to indie. For more information, visit http://www.coast2coastmixtapes.com.