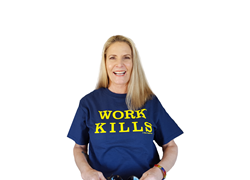 San Francisco, California (PRWEB) December 10, 2015
Rarely does a shirt come on the market which is an instant classic, an ice breaking conversation piece, that is an universal irreverent understatement which everyone agrees with because it touches their souls as sadly truthful. Since 99% of us have to work, the WORK KILLS shirt does that. Accordingly it is a shirt which people will covet and wear year after year. It's an "In your face" perfect Christmas gift. It is available on http://www.WorkKills.biz along with hats, mugs and a lot more or on Amazon (just type Work Kills sweatshirt or Work Kills T shirt in the Amazon search bar).
Here's the Work Kills misery index:
Office politics; sex discrimination; unequal pay; quotas; surveillance cameras 24/7; email monitoring; forced brown nosing; cell phone used as an electronic leash; bad back; cubby hole claustrophobia; nasty gossip; it's sunny outside; nepotism; over educated and under employed; fear of outsourcing; false perpetual smile; age discrimination; net allows company to nullify hard-earned personal contacts; faked loyalty; fighting for commissions; carpel tunnel; globalization; digitization; dead end job; night shift; no overtime; humiliation; sadistic boss; knife in the back; interruptions; day dreaming; commuting in traffic; slavery; hamster on never ending wheel; losing ground on paying bills; What retirement?; exploitation; countdown to quitting; no credit for stolen idea; "all I have in life is time-what am I doing here?"; the grass is greener anywhere else; jealousy; prejudice; replaceable by app; invent excuses; protect reputation; pretend to laugh at bad jokes; double crossed; ever-higher-quotas; boredom; broken promises; just a number that can be replaced at boss' whim; cruel world; no exercise; control temper; lies; threats; under appreciated; endless meetings; high blood pressure medication; sabotage; unfulfilled sex; write-offs; fear of audits; flirting for leverage; wear identity badge; union indifference; forced training of foreign replacement here on a H2b visa; security; computer glitches; sick leave; customers suck; square peg in round hole; office drones; forever looking for niche-escape-hatch; never ending diet; coffee diet; endlessly signing happy birthday cards ; employee reviews; ever longer hours without compensation; constantly moving goalposts, retribution for telling the truth; unfair wages; downsizing; layoffs; change job; favoritism; hide yawns; micromanagement; ignored by management; never positive feedback; "yes" workers; glass ceiling; involuntary vacation rescheduling; unfair performance evaluation; CYA for everything; second job; fatigue; experience discounted; Where's my golden parachute?; rain making or perish; automated rejections; office temperature; dress for success; necessity to network; automation; clock watching; check with-holdings; jerks; co-worker learning disorder; mandatory attendance at company parties; dirty tricks and practical jokes; serving coffee; withheld messages; best leads directed to others; avoid co-workers who cough & sneeze; hide the ball; not a living wage; place blame elsewhere; lack of freedom.
Wear a Work Kills shirt to work on a casual Friday and become the morale officer of your company. You may not last too long, however. Better yet, wear it in any social gathering; you'll have a blast. No matter when and where you wear it strangers will crack up and some will go out of their way and hit you with "You got that one right" or "Yeah man" or "Are you retired?" In this day and age, what's retirement?
Do any or several situations on the Misery Index ring your bell? Even if you are helpless, just remember that laughing is the lubrication of life. Work Kills®, San Francisco.