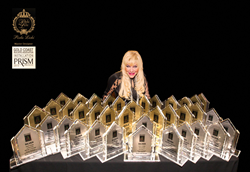 Perla Lichi's GCBA entries dominated all price categories, from homes valued at $325,000 to well over $3 million.
Coral Springs, Florida (PRWEB) December 11, 2015
Interior Designer Perla Lichi (http://www.perlalichi.com) won an amazing 37 interior design awards at the recent PRISM Awards and GCBA Installation banquet at the Marriott Okeechobee in West Palm Beach. Her entries dominated all price categories, from homes valued at $325,000 to well over $3 million.
The international designer, with offices in Coral Springs, FL and Dubai UAE, won gold awards for Overall Design for the Aventura Place Model Home by Weitzer Homes in Aventura, and the Hibiscus Model by WCI Communities in Parkland. "These awards will be a definite boost for recognition of our MODEL HOMES BY PERLA LICHI division," said Ms. Lichi.
Perla's LUXURY HOME division was recognized for overall design of a private Star Island residence in the $3 million and over category and for Craftsmanship in Ceilings and Flooring. Her LUXURY HOME INTERNATIONAL division took gold for craftsmanship in Flooring, Ceilings and Woodworking, for estate homes in Qatar and Abu Dhabi.
The PERLA LICHI HOME division (http://www.perlalichihome.com) was recognized with gold for the design of the Living Room and Dining room of a Miami residence, gold for the Dining Room and silver for the Living Room of a residence in Southwest Ranches.
Among the 37 awards, Perla Lichi was awarded gold for Master Baths, Powder Rooms, Master Bedrooms, Living Rooms, Dining Rooms and Media/Theater Rooms. She was awarded silver for Kitchens, Living Rooms and Dining Rooms for residences from $500,001 to more than $3 million.
She was the only designer to enter in the International Category, taking home seven gold awards for various room designs in her work in Dubai, Abu Dhabi and Qatar.
In the Craftsmanship category, Perla Lichi took home gold for Cabinetry, Ceilings, Flooring and Woodworking in both her domestic and residential work.
Professional judges evaluated and reviewed all entries of this prestigious awards competition. The banquet was themed "The Great Gatsby's Roaring '20s" and to add to the fun, many attendees came in costume dressed either as flappers or as gangsters.
Perla Lichi Design is a full service, professional interior design company with offices in Coral Springs, Florida and Dubai, UAE, and servicing residential and commercial clients worldwide. She is a Florida State licensed interior designer, ID#00001727. The Coral Springs showroom, open Mondays through Saturdays from 9am to 5pm, is located at 7381 West Sample Road. Call for appointment 954-726-0899.
###
More photos available of Perla Lichi and her staff, of the event, and of the award winning interior design projects. Contact Janet Verdeguer at 941-870-3422 or email janet(at)grannyapplepublishing(dot)com