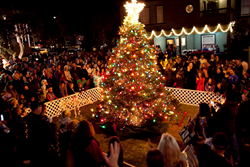 This event is a celebration of community, a celebration of the holiday season!
Santa Monica, California (PRWEB) December 10, 2015
Main Street Santa Monica celebrated the holidays by hosting a spirited extravaganza on Saturday, December 5th from 6:00PM to 9:00PM. The event included more than 40 parties at participating businesses, a visit from Santa, a tree lighting ceremony, a candle light walk, and live music at the iconic Shopping Cart Tree at Edgemar.
At 6:00 p.m., on the museum lawn, the tree lighting ceremony commenced with music by the Caroling Company and the Samohi Choir. Afterwards, Santa will lead the Candlelight walk to the famous Shopping Cart tree at the Edgemar courtyard, complete with music by The Off Their Jingle Bell Rockers.
Everyone was invited to attend the parties as Santa strolled along the street and the carolers provided entertainment.
"This event is a celebration of community, a celebration of the holiday season," said Anthony Schmitt, MSBIA Chairperson. "We enjoy producing this every year, bringing everyone together for a joyous, family and friends evening."
Main Street (@MainStreetSM) hosted a Holiday Decorations Instagram contest for holiday shoppers. As merchants put up holiday decorations, shoppers snapped photos of their favorites! The business with the greatest number of likes based on user-generated content, using the designated hashtag #MyMainVoteSM, would win the first place prize; with prizes for the second and third place "vote" getters. The person whose photo received the most "likes" on his or her photo would also be announced as a winner and receive a gift package from Main Street merchants.
The votes are in and in first place for the business with the greatest number of likes based on user-generate content goes to Ashland Hill, with Arts and Letters coming in second place and KoKo ringing in for third. Check out Main Street's social media pages for photos of the business with their awarded medallions as a special thanks for their participation! Also stay tuned for the announcement of our individual winner and details concerning the gift basket.
For more information concerning Main Street merchants visit, http://mainstreetsm.com.
For media inquires, please contact Kyrstin Riley at kyrstin(at)melrosepr(dot)com or call Melrose PR at (310) 260-7901.
ABOUT MAIN STREET SANTA MONICA
Main Street Santa Monica is an eclectic collection of restaurants, boutiques, cafes, and various services stretching for about a mile from Pico south to the Santa Monica City limit. It is NOT the Mall. Historic, and Going Green, the street offers numerous unique shopping and dining experiences. Main Street is also popular for the weekly Farmer's Market every Sunday at Heritage Square, the annual Summer SOULstice, and the annual Holiday event featuring The Shopping Cart Tree.