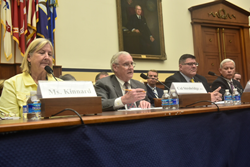 The ideal solution would be to eliminate the offset for all SBP/DIC survivors.
Alexandria, Va. (PRWEB) December 09, 2015
On behalf of The Military Coalition and the Military Officers Association of America (MOAA), retired Air Force Col. Steve Strobridge testified before the House Armed Services military personnel subcommittee today on the serious financial penalty imposed on some survivors whose military sponsor's death was caused by service.
Strobridge urged Congress to repeal the law that forces survivors to forfeit a dollar of the Survivor Benefit Plan annuities purchased by their spouses for every dollar of VA Dependency and Indemnity Compensation the survivor receives for the service-caused death — commonly known as the SBP/DIC offset or the military "widows' tax."
Strobridge thanked the committee for championing the cause of this group of military survivors. He said when Congress acknowledged this inequity in 2008 by authorizing a modest monthly Special Survivor Indemnity Allowance (SSIA) for those affected by the offset and then creating in 2009 a schedule of annual SSIA increases through 2017, thousands of survivors had hope Congress finally was taking action on their cause.
He also referred to the August 2009 court ruling that required payment of both SBP and DIC to eligible survivors who remarried after age 57 as a good example of why the deduction is so wrong. The ruling stated, "After all, the service member paid for both benefits: SBP with premiums; DIC with his life."
Strobridge highlighted the current contradictory aspect of the law that penalizes survivors who remarry before age 55 for SBP and age 57 for DIC by stopping their payments but then penalizes widows (by continuing to subtract DIC from SBP) for not remarrying after age 57. "The ideal solution would be to eliminate the offset for all SBP/DIC survivors," he stated.
"Because of budget issues, our hope has been Congress would do that on a phased basis by steadily increasing the SSIA amounts," Strobridge said. "As of FY 2017, the $310 monthly SSIA will restore about 25 percent of the offset."
However, SSIA authority will expire Oct. 1, 2017, and the payments will stop. At minimum, he emphasized, Congress needs to extend the SSIA in the FY 2017 National Defense Authorization Act, or SBP/DIC survivors will forfeit the $310 monthly allowance.
Strobridge also highlighted another inequity affecting survivors of National Guard and Reserve members who die on inactive duty for training. Because survivor benefits for this group are calculated with a reduced formula compared to what's used for service members who die on active duty, their lower SBP amounts are typically wiped out by the SBP/DIC offset.
-End-
Watch Dec. 9, 2015 hearing - Subcommittee on Military Personnel
20151209 - Concurrent Receipt of Survivor Benefit Plan (SBP) & Dependency and Indemnity Compensation (DIC)
About The Military Coalition: A consortium of 28 nationally prominent uniformed services and veterans' organizations representing more than 5.5 million members of the uniformed services —active, reserve, retired, survivors, veterans — and their families.
About MOAA:
Military Officers Association of America (MOAA) is the nation's largest and most influential association of military officers. With more than 390,000 members — active duty, former, retired, and National Guard and Reserve officers from all seven uniformed services and their spouses and surviving spouses — it is a powerful force speaking for a strong national defense and represents the interests of military officers and their families at every stage of their careers. For those who are not eligible to join MOAA, Voices for America's Troops is a nonprofit MOAA affiliate that supports a strong national defense. For more information, visit http://www.moaa.org.
Members of the news media who wish to be added to our media distribution list for MOAA news releases, please contact requestnews(at)moaa(dot)org. Visit MOAA's Multimedia & Press Room at http://www.moaa.org/media/default.htm.