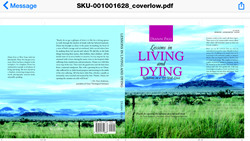 Marketplace Chaplains is a calling to help others and it is so much a part of me. Marketplace Chaplain Diann Pass
Plano, Texas (PRWEB) December 11, 2015
Marketplace Chaplains, America's original and largest workplace chaplaincy organization, deals with client company employee member's deaths and dying on a regular basis as part of their unique employee care services.
Recently, a West Texas Marketplace Chaplain Diann Pass wrote her first book, Lessons on Living and Dying, Reflections on a Life Well Lived, dealing with death and dying issues related to the passing of her husband John, and how it has helped her in her chaplain role of helping others in the workplace.
"Marketplace Chaplains is a calling to help others and it is so much a part of me," Pass said. "I always want to help others in the workplace and writing this book was very helpful and healing. "We want to help others in the marketplace and because we help others, people wanted to help me when this happened. It helped me to relate to them so much better."
Published by WestBow Press a division of Thomas Nelson Press, it continues a recent trend where Marketplace Chaplains has been featured in top media publications for its unique role of helping employees and their family members in the often troubled and busy workplace.
Newly named Marketplace Chaplains Executive President and CEO Doug Fagerstrom, was featured in the December issue of Dallas CEO Magazine. Marketplace Chaplains is also scheduled to be featured in an upcoming story in the Atlantic Magazine and Atlantic.com.
"We are very grateful for the recognition various media outlets have given to our unique employee care service. Hundreds of forward thinking businesses provide this service to their employees and family members, and as a result, we are able to make a real difference in the lives of people each and every day," Fagerstrom said. We are also delighted that our very own chaplain Pass, would share her personal story of healing and grief in her new book."
When her husband passed away in 2012, Pass began to write things down about John so she wouldn't forget them and after encouragement from people at her church and others who knew her and her husband, she began to write the book in early 2014.
"I wanted to write it all down on paper how John left a legacy in his life and how we can all do that in our own individual way. He was an exceptional man, part of the hall of heroes and I wanted people to know about that," continued Pass.
Pass has been working with Marketplace Chaplains for more than four years, serving several companies in the Midland-Odessa, Texas, area.
The book, which was published nationally in September, is available on a variety of platforms including Amazon and B&N.com along with the WestBow Press site.
For more information on this unique employee benefit which has been featured with Marketplace Chaplains on CNN, NBC Nightly News, and in the Washington Post, the New York Times and Bloomberg BusinessWeek, visit http://www.mchapusa.com.
Marketplace Chaplains currently offers care and compassion in 3,693 client company locations in 45 U.S. states, 1,115 cities across the globe, 6 countries and 1 commonwealth. These 2,000 plus chaplains serve in 35 different industry types from family-owned to Fortune 500.
About Marketplace Chaplains
To arrange an interview with a Marketplace Chaplain contact Art Stricklin, Vice President Public Relations, at artstricklin(at)mchapusa.com or call 1-800-775-7657.