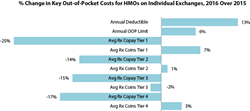 Washington, DC (PRWEB) December 10, 2015
As insurers gain experience in public insurance marketplaces, many have simplified plan designs in some ways, while raising the actual out-of-pocket cost burdens that members will face in 2016, according to research conducted by the editors of Atlantic Information Services, Inc.'s (AIS) Rx Benefit Design Data (RxB), an online subscription database with detailed data, news and insight on prescription drug benefit parameters of health plans. RxB allows subscribers to analyze out-of-pocket costs related to pharmacy benefits for all individual and small-group commercial plans on the market.
In most cases, the copay amounts for prescription drugs have decreased, AIS editors found. For HMOs, prescription drug copays are down 25% for Tier 1 drugs, and the average specialty tier (Tier 4) prescription drug copay is $98, down from $113 last year. For plans that charge a member coinsurance for specialty drugs, it has become more popular to modify the burden with a maximum per prescription, so that members need not hit their annual out-of-pocket limit as early as they may have in 2015.
Overall annual deductibles are up 13% from 2015, however, and out-of-pocket maximums are up 6%. And AIS editors found that many plans don't cover most drugs until after an annual deductible (or separate Rx deductible) has been met. Of HMOs, 39% at Tier 1, 56% at Tier 2, and 63% at Tiers 3 and 4 require a deductible to be met prior to covering most drugs. PPOs employ this strategy at an even greater frequency. Lower average copays are due in part to a greater proportion of zero-copay plans — after the full deductible is met; these are available in all plan types and metal levels for 2016.
In addition, fewer plans cover out-of-network services in 2016 than 2015, according to AIS editors. The most popular plan type is HMO, which represents 53% of all plans, and this proportion is up 21% over last year. Even some POS and PPO plan types have eliminated most out-of-network services (including pharmacies) except in emergency.
These trends may result in higher out-of-pocket costs during 2016, but streamlined plan designs will allow members to more easily anticipate and budget for their annual prescription drug costs.
A free copy of the analysis may be downloaded from the RxB demo website in the site's In-App Downloads section. For more information, and to access the demo, visit https://aishealthdata.com/rxb.
About Atlantic Information Services
Atlantic Information Services, Inc. (AIS) is a publishing and information company that has been serving the health care industry for more than 25 years. It develops highly targeted news, data and strategic information for managers in hospitals, health plans, medical group practices, pharmaceutical companies and other health care organizations. AIS products include print and electronic newsletters, websites, looseleafs, books, strategic reports, databases, webinars and conferences. Learn more at http://AISHealth.com and http://aishealthdata.com.