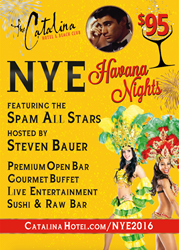 "Ring in the NYE at Catalina and have a blast." says Nathan Lieberman.
Miami Beach, FL (PRWEB) December 11, 2015
The Catalina Hotel is notorious for hosting some of the ultimate party scenes in Miami Beach and this New Year's Eve Bash—"Havana Nights" will be no different. Award-winning Cuban actor Steven Bauer, who played the famous character Manny Ribera in the blockbuster movie Scarface will be hosting. He is also known for pivotal roles in the movie Traffic and Enemies Among Us and the hit popular TV series Que Pasa, U.S.A.? and Ray Donovan.
This New Year's Eve party at Catalina Hotel will have a special performance by Grammy winner Jorge Moreno who came up with the theme "Havana Nights" after recording the sound track with Carlos Santana for the self-titled Miramax film.
Miami's Latin Grammy nominated Spam Allstars will also perform with their Latin funk "electronic descarga" a crowd-pleasing favorite for an overall dynamic music experience.
"This will be a great event. We offer premium open bar and gourmet buffet at a low price of $95 which is not common in Miami Beach," explains Alan Lieberman, co-owner of South Beach Group, "Any of our guests are welcome to ride on our E-cars to come to the Catalina Hotel and bring in the new year."
"Havana Nights" will have three DJs, tropical dancers, stilt walkers and surprise live entertainment that covers all kinds of music--everything from House to Hip-Hop to Latin. The Latin and Cuban food will be provided buffet-style by the popular Maxine's Bistro.
"You can blow your life savings at a nightclub or ring in NYE at the Catalina Hotel where you can get everything at a great price and have an awesome time with your family and friends," says Nathan Lieberman, co-owner of South Beach Group, "Plus the extensive buffet menu and open premium bar has something for everyone."
The New Year is often a time about new beginnings and changes in one's life. This is a celebration that one should never forget--so it would only make sense to ring in the New Year with new memories "Havana Nights" style.
[The Catalina Hotel is a contemporary art deco boutique hotel in Miami Beach. It is one of the popular properties from South Beach Group owned by powerhouse father & son duo, Alan & Nathan Lieberman]
Hotel Information:
Phone: 305-674-1160
1720-1732-1756 Collins Ave
Miami Beach, Fl 33139
http://www.catalinahotel.com
http://www.southbeachgroup.com
For Press & Media Inquiries:
Michell Diaz, Producer of PR & Marketing for South Beach Group Hotels
Email: michell.diaz(at)southbeachgroup.com
Office: (305) 535 8248 ext. 3052