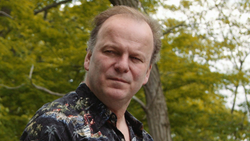 "Bobby... I heard your voice on TV and I thanked god you had a job" . " Me too, Mama. Me too" Clohessy jokingly added.
New York, NY (PRWEB) December 11, 2015
The Independent Film Association awarded Robert Clohessy the Best Actor prize at the 2015 IFA International Film Festival for his portrayal of an existential hitman in Writer / Director Elias Plagianos' film " The Man From The City" .
"This year we considered the work of many talented international filmmakers and storytellers representing diverse countries all around the world.  The quality of the work that we had the honor of reviewing was, quite simply, astounding. " said IFA President Andrew Van Slee.
This is the latest in a string of awards that Clohessy, a seasoned veteran of the film and television industries, and currently on CBS' hit drama Blue Bloods, has won for the independent film which was showcased this summer at the Cannes Film Festival's Court Métrage .
Clohessy, after finding out he won the award, said that while he appreciates all the recognition he has received for his performance, he is just happy to be a working actor. He went on to reference a humbling phone call he recently had with his mother - "Bobby, I don't know what station or program, but I heard your voice on TV and I thanked god you had a job."
"Me too, Mama. Me too." Clohessy jokingly added.
Auteur filmmaker Plagianos, who has received awards for both his directing and editing of the project, praised his leading man by adding "He is a great actor, collaborator, and friend. I'm very proud that his performance has been recognized by this prestigious organization."
Clohessy additionally credits his co stars Sean Young and Matthew Conlon with elevating his performance.
"The Man From The City" ends it's film festival tour this month, and a follow up to the successful project will be announced early next year.
The film stars Robert Clohessy, Sean Young, and Matthew Conlon. Written, directed, and edited by Elias Plagianos. Produced by Craig Blair, Joe Gabriel, Debra Markowitz, and Elias Plagianos.