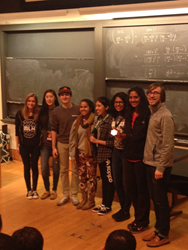 "Whether you're making your first mobile app or are ready to jump onboard the most developed hardware track in the country, join us for 36 glorious hours of learning." -HackPrinceton
Princeton, New Jersey (PRWEB) December 11, 2015
HackPrinceton is an event for young "Hackers" to exercise and develop their hacking skills among their peers and mentors. The event is a 36 hour "Hackathon" where new ideas are created completely within that time frame. Teams are formed, ideas hashed out, then work is done at a feverish pace to create new hardware and software.
Over the course of the weekend, attendees had the chance to learn new skills from technical workshops, speak with mentors and venture capitalists about their ideas, and meet like-minded students from schools around the world. Starting Friday night and ending Sunday morning, the judged projects are brought from concept to completion then submitted for review by a panel of professionals.
Many interesting ideas were produced at this year's event, from crowd funding house hold chores or a kitchen task organizer, to security filters securing your home, your workplace and even your smartphone's private data. Hardware was created to monitor battery life, or harness vibrations to power a DC power supply, and an automated drug assistant and more.
Private Internet Access awarded three top prizes for a Privacy and Security Hack focus. These ideas were judged based on uniqueness of the idea, ease of use and implementation.
PIA 1st prize of $2000 – Cloak – encrypt and hide personal data on your smart device.
PIA 2nd prize of $1000 – Home Honeypot – home network security system sensing unauthorized devices.
PIA 3rd prize of $500 – Filter – network security system based off real-time user data analysis.
The all-around winners were:
1st place Hardware Winner – WatchOut – system to detect emergency situations based off of defensive body movements and loud distress noises, that will alert emergency contacts via your mobile device.
1st place Software Winner – CommPound – A crowd funding way to get tasks done by listing chores and allowing users to pledge small amounts of money towards accomplishing a task.
HackPrinceton is an annual event that showcases ideas of some of the brightest upcoming professionals. Jon Roudier, CEO of PIA said, "We were pleased to be a part of this event and look forward to sponsoring future events as well to encourage these young minds."
For more information, look up HackPrinceton on FB or Twitter