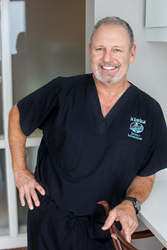 Mount Pleasant, SC (PRWEB) December 09, 2015
Kevin Hogan, DDS, has recently taken a progressive education course that allows him to provide his patients, who are missing teeth, with the latest in implant technology. By completing the Engel Institute Course, he has acquired the knowledge and skills necessary to provide an even higher stature of comfort and care, for patients who seek dental implants in Mount Pleasant, SC. Implants simulate the appearance and functionality of natural teeth, allowing them to be one of the most effective replacement options for anyone afflicted by tooth loss.
Advanced classes for dental professionals at the Engel Institute involve more than the opportunity to learn new information. After receiving detailed instruction, Dr. Hogan also received hands-on training with a mentor, who guided him through each intricate aspect of this implant technique. Real-world experience included pre-surgical instruction and opportunities to perform the procedure on a model, as well as on a patient. By undergoing this effective training, Dr. Hogan is now more extensively qualified to offer exceptional care for his patients who are interested in dental implants in Mount Pleasant, SC. He plans to further his education and proficiencies by attending more courses at this institution, acquiring qualifications on oral treatment updates.
Dr. Hogan understands that many people avoid oral surgery, out of fear of pain and discomfort, which is why he strives to facilitate ease for his patients, in regards to oral health decisions. Those with missing teeth may not realize the adverse effects that may initiate, immediately following tooth loss. The roots of a tooth stimulate healthy bone density; thus, an empty socket can no longer provide the stimulation required. The jawbone starts to deteriorate immediately, with a majority of the bone loss occurring during the first year. As the jaw structure diminishes, the foundation for surrounding teeth also shift, causing the teeth to loosen or potentially fall out.
In Mount Pleasant, SC, Dr. Hogan surgically inserts dental implants in the empty sockets. The post of an implant integrates with the jaw, simulating the tooth root and stimulating regenerative properties. The crown is created to fit the gap precisely, matching the shade of adjacent teeth, allowing the beauty and natural appearance of a smile to be restored. Anyone who is missing teeth and wants to achieve oral health without anxiety can learn more on Dr. Hogan's website.
About the Doctor:
Dr. Kevin Hogan is a general dentist providing individualized care for patients in Mount Pleasant, SC. Dr. Hogan is a graduate of the Indiana University School of Dentistry and has completed hundreds of hours of continuing education courses to stay contemporary with the latest dental technologies. In addition, he has also completed coursework with the Dental Organization for Conscious Sedation and has lectured at the University of North Carolina, Emory University and the Saginaw Valley University. Dr. Hogan is a member of the American Dental Association, International College of Cranio-Mandibular Orthopedics, Academy of Laser Dentistry, International Association of Physiologic Aesthetics, Institute for Advanced Laser Dentistry, DOCS (the Dental Organization for Conscious Sedation), International Congress of Oral Implantologists and the South Carolina Dental Association. He is also a past member of the American Straight Wire Orthodontic Association, Maxillofacial Orthopedic Growth and Development, the American Academy of Pediatric Dentistry and the Functional Orthodontic Society. He and his team are dedicated to providing exceptional oral care to patients through personalized treatment plans. To learn more about the services offered by Dr. Hogan, please visit his website at http://www.smilesbyhogan.com or call (843) 639-5044.