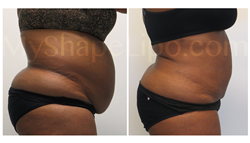 Full body liposuction can completely change a persons shape and as a consequence it boosts their confidence and motivates them to live a healthier lifestyle
Las Vegas, NV (PRWEB) December 10, 2015
The holidays are here and there is no shortage of cookies and deserts to celebrate with friends and family. Like most people, Linda B. of Juno Alaska was sick and tired of looking and feeling fat after the holidays and this year she chose to make a stand by removing as much fat as she could through liposuction.
Linda chose to fly out to Las Vegas, NV for her procedure at MyShape Lipo with liposuction expert and owner Trevor Schmidt PA-C. Although there are surgeons locally, she was much more comfortable with a specialist performing her procedure. Schmidt has performed over 15,000 liposuction procedures to make him among the most experienced liposuction specialists in the country.
"MyShape Lipo was so much more affordable, plus they only do liposuction so I felt more confident that they could give me what I was looking for," says Linda. "I was so happy with my results that I have had 3 separate procedures now and I even brought my sister with me so she could get some work done."
Liposuction these days is much safer and affordable than it has ever been in the past. With new techniques and advancements in technology, surgeons are able to achieve much more consistent results at a lower price point. Because of these advancements, liposuction has quickly become the most popular cosmetic procedure according the American Society for Aesthetic Plastic Surgery.
"Full body liposuction can completely change a persons shape and as a consequence it boosts their confidence and motivates them to live a healthier lifestyle," says Schmidt. "Many people use liposuction as a starting point to change their life for the better. We all want to be healthy, look better and feel our best. Liposuction is a great way to get the whole process jumpstarted."
As with all procedures in medicine, there are limitations and safety precautions that must be followed to ensure the safest procedure. For those interested in addressing the fat throughout the entire body, this will likely need to be done through multiple procedures. Linda required 3 separate procedures to accomplish her goal of head to toe liposuction.
"In three procedures, we removed nearly 14 liters of fat from Linda," says Schmidt. "To put that in perspective, that's about 30 pounds of pure fat and it's gone forever."
"I don't know why I waited so long to get this done," Linda states. "All those years of depression and feeling like I was fat could have been different. I've worked out so hard without seeing results; liposuction is definitely a game changer for me."
Most experts consider liposuction a permanent solution for fat removal as long as the individual maintains their weight. For larger individuals, liposuction can make a profound change by removing large volumes of pure fat. It's believed that fat cells do not reproduce, which means that once they are gone, they will not be replaced.
About MyShape Lipo
Trevor Schmidt PA-C, the liposuction specialist and owner of MyShape Lipo has performed over 15,000 areas of liposuction on patients all shapes and sizes. They are a specialty clinic focusing on liposuction and fat transfer. Because of their specialty and affordable rates, they attract patients from around the world who fly in for their procedures. One can expect the most advanced techniques and latest technologies to help get the most consistent and dramatic results. They offer complimentary "Body Shape Analysis" in person for locals or over the phone for those out of state. Call today to schedule a free body shape analysis, 702-818-5476.