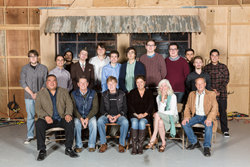 Santa Fe, NM (PRWEB) December 09, 2015
Santa Fe University of Art and Design (SFUAD) in conjunction with the Robert Redford/Milagro Initiative Scholarship program, has awarded 15 students from eight U.S. states as well as Brazil, Ecuador and Venezuela, with Emerging Artist Awards for 2015. The scholarships cover up to $15,000 or $7,000 per year, depending on the student's program of study. The scholarship program, which first awarded students in 2013, currently has 40 enrolled awardees.
Redford recently met with this year's new scholars during a luncheon held at the university's on-campus Garson Studios in late November to share ideas and advise about being the next generation of storytellers.
"This year's selection of scholars reflects a wide range of voices working to better understand the world they will inherit," said celebrated actor and Academy Award–winning director, Robert Redford. "This program provides them with an environment for experimentation and exploration, and I wish them well on the journey ahead."
All scholarship awardees must demonstrate appreciation for the mission of the Robert Redford/Milagro Initiative Scholarship Program: the desire to pursue a fulfilling life and career in the arts; the belief that positive social change comes through the study of the arts and lifelong learning; and the goal of promoting voices that are not always part of the conventional dialogue. While the scholarship program is funded by the university, recipients were selected by Robert Redford, in conjunction with The Milagro Initiative, a nonprofit organized as a center for creative training in film, the arts and sustainable futures.
"Selection was extremely difficult this year, as the talent pool was rich," said Kathleen Broyles, Director of The Milagro Initiative and Feature Film Program Consultant for the Sundance Institute. "We gravitate toward storytellers, to emerging artists who reach beyond borders in effectively addressing the role of art in inspiring positive social change. That comes in many forms — in giving voice to the voiceless and in creating platforms for reflecting on social and environmental injustices."
Recipients of the 2015 Robert Redford/Milagro Initiative Scholarships
Emerging Artist Scholarships:
Jace Husted, Photography; San Antonio, TX
Santiago Ceron, Film; Quito, Ecuador
Miles DeVesty, Film; Santa Fe, NM
Jesus Trujillo, Photography; Santa Fe, NM
Woodrow Hunt, Film; Portland, OR
Joshua Berman, Film; Lexington, MA
Manuel Ignacio Barrios Mainou, Film; Caracas, Venezuela
Julia Mayumi Imamura, Studio Arts; São Paulo, Brazil
Ryan Rocha, Film; San Antonio, TX
Keith Walski, Photography; Santa Rosa, CA
Dennis Brumback, Contemporary Music; Hamilton, VA
Iancu Tomlinson, Film; Edmond, OK
Roberto Zuniga, Film; Burbank, CA
Joseph "Jay" Filbert, Film; Colorado Springs, CO
Aiden Willink, Graphic Design; Wheat Ridge, CO
Redford Scholars have the opportunity to receive mentorship from The Milagro Initiative through storytelling workshops and other special events throughout their studies at SFUAD.
To be considered for the Redford/Milagro Initiative Scholarship Program in 2016, students must submit materials required for admission to the university, provide an essay, writing sample and/or video addressing why they want to become a Redford/Milagro Initiative scholar, and submit work of art they feel best illustrates their emerging artistic voice and/or addresses the mission of artists for positive social change. The 2016 deadline is February 2, and more information can be found at http://santafeuniversity.edu/admissions/our-scholarships/redford-milagro-initiative/. The scholarship program is open to students from around the world; current and previous recipients have hailed from across the U.S. as well as Brazil, Dominican Republic, Ecuador, El Salvador, Iran, Mexico, Tibet and Venezuela.
About Santa Fe University of Art and Design:
Santa Fe University of Art and Design is an accredited institution located in Santa Fe, New Mexico, one of the world's leading centers for art and design. The university offers degrees in arts management, contemporary music, creative writing, digital arts, graphic design, film, performing arts, photography and studio art. Faculty members are practicing artists who teach students in small groups, following a unique interdisciplinary curriculum that combines hands-on experience with core theory and prepares graduates to become well-rounded, creative, problem-solving professionals. SFUAD is a member of the Laureate International Universities network – a global network of more than 80 campus-based and online universities with one million students in 28 countries. SFUAD boasts an international student body and opportunities to study abroad, encouraging students to develop a global perspective on the arts. Santa Fe University of Art and Design is accredited by The Higher Learning Commission.