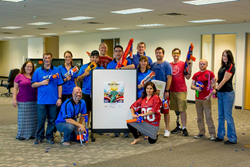 It's an honor to be recognized for what we all already knew internally
Scottsdale, Ariz. (PRWEB) December 10, 2015
Not only does Symmetry Software simplify the payroll process with accurate and dependable payroll withholding tax solutions, they keep their workforce motivated and happy, too. Last Thursday, the payroll software company placed 19th in the Phoenix Business Journal's 2015 Best Places to Work, moving up from 23rd in 2014. Symmetry Software was pitted against other micro-sized businesses of 1-49 employees.
The standings are determined by internal employee surveys that are tallied against other companies by the Journal. Any spot in the annual event is an indication of the unique way that business treats its employees.
"It's an honor to be recognized for what we all already knew internally," said Tom Reahard, founder and CEO of Symmetry Software. "We all already knew that we are a good place to work!"
The survey conducted by employees reveals perks of the job. For Symmetry, top answers included a focus on health and wellness, excellent benefits, catered lunches and professional encouragement.