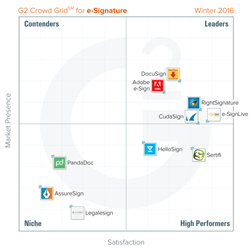 CHICAGO, IL (PRWEB) December 10, 2015
G2 Crowd, the world's leading business software review platform, today released the Winter 2016 e-Signature Software GridSM report to help businesses make the best technology decisions. DocuSign, RightSignature, eSignLive, CudaSign and Adobe eSign services were named Leaders in the report, receiving strong customer satisfaction scores with large market presence scores. Additionally, Sertifi and HelloSign were named High Performers earning strong customer satisfaction marks with smaller market presence scores. eSignLive earned the highest overall satisfaction score while DocuSign earned the highest overall market presence score.
The GridSM leverages customer satisfaction data reported by authenticated users along with vendor market presence determined from social and public data. Based on a combination of these scores, each software solution is categorized as Leader, High Performer, Contender, or Niche.
Key Findings:
Key findings revealed that e-signature products seem to have optimized their core functionality, as no product scored lower than a 94 percent rating for the document signing feature. PandaDoc (Niche) was the highest-rated document signing vendor at 97 percent. Furthermore, all e-signature feature ratings averaged higher than 89 percent.
Security was a key differentiator for e-signature products, with some products adding extra security measures to ensure the right parties received their documents and to put users' minds at rest. Additionally, well-designed e-signature product layouts made users feel more trusting of e-signature products.
In contrast, users of many products complained about the lack of editing features. Eight out of 10 e-signature products included reviews expressing disappointment in general editing features, specifically that once a document is created, saved, and sent, there is no option to edit the document without starting over and creating a new document.
G2 Crowd users contributed more than 720 new reviews of e-signature products since the Spring 2015 GridSM report, resulting in two changes. The most notable movement was that of CudaSign, which moved from Niche to Leader as its Satisfaction score increased by 37 points and its Market Presence score increased by 11 points. In addition, Sertifi's Satisfaction score increased by two points and its Market Presence score increased by five points.
About the e-Signature Software GridSM report:
● The report is based on more than 1,900 reviews written by business professionals.
● Of the roughly 50 products listed in G2 Crowd's e-Signature Software category, the ranked products each received 10 or more reviews to qualify for inclusion on the GridSM.
● Products appearing on the e-Signature Software GridSM for the first time include HelloSign, PandaDoc and Legalesign.
_______________
About G2 Crowd, Inc.
G2 Crowd, the world's leading business software review platform, leverages its 44,000-plus user reviews to drive better purchasing decisions. Technology buyers, investors, and analysts use the site to compare and select the best software based on peer reviews and synthesized social data. Co-founded by the founder and former executives from SaaS leader BigMachines and backed by roughly $12 million in capital, G2 Crowd aims to bring authenticity and transparency to business technology research. For more information, go to G2Crowd.com.
Follow us on Twitter or connect with us on Facebook or LinkedIn.