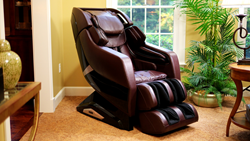 It has been an exciting journey to see the Riage™ skyrocket and bring a new level of wellness into so many people's lives.
Kingston, NH (PRWEB) December 10, 2015
Infinity™ Massage Chairs and Brookstone® are partnering to bring shoppers the perfect holiday gift for the person who has everything, the Infinity Riage™ Massage Chair.
Infinity™ has already been recognized in the massage chair industry for other fine products, such as the IT-8500 and the IT-9800.
The Riage™ is available at select Brookstone® locations throughout the United States, as well as online at Brookstone.com. Customers can even try the Riage™ in-store to make sure it suits their needs. The retailer of unique gift ideas and smart products is the exclusive reseller of this luxurious Infinity™ massage chair.
Throughout their 18-month partnership, Brookstone® and the massage chair company so far have seen both customer satisfaction and sales soar as the Riage™ has taken off.
"We are very happy with how our relationship with Brookstone® has grown," Infinity™ Massage Chairs Vice President Jim Coppins stated. "It has been an exciting journey to see the Riage™ skyrocket and bring a new level of wellness into so many people's lives."
The cutting-edge Riage™ provides head-to-toe massage and relaxation with its 49-inch L-shaped roller track, which curves to the S-shape of your spine and reaches through the lumbar and gluteus region. Users will also enjoy two zero gravity positions, a unique rubbing technique, and foot massagers. Not to mention the distinguished, sophisticated look of the Riage will fit in with any home décor.
The Riage™ is also equipped with Bluetooth® technology, so users can sync their favorite music wirelessly. Additionally, there is now an Infinity Riage™ mobile app available for both Android® and Apple® devices, allowing owners to easily control the chair from their cell phones.
Coppins continued, "Brookstone® has been great at educating buyers about the benefits of our massage chair. We feel they are the perfect outlet for a high-end product like the Riage™. Plus, the holidays don't get much better than a massage chair surprise!"
Brookstone® is a nationwide specialty retailer offering an assortment of unique and functional consumer products that are not widely available from other retailers. The company places the highest value on quality of product, quality of service, and quality of people. The Infinity™ team feels Brookstone® is an ideal match due to both companies' emphasis on excellence in products and service.
Infinity™ Massage Chairs launched onto the market in 2009 and has been leading it ever since. As the massage chair manufacturer continues to expand and improve upon its products, it gains increasing recognition by the industry. Infinity™ provides total customer support from start to finish, beginning with pre-sales and continuing after purchase with technical service. The mission of Infinity™ is to improve the overall mental and physical well-being of its customers, while providing the best in customer service.
To learn more about the Infinity Riage™, visit a Brookstone® store near you.