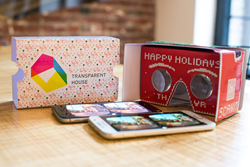 San Francisco (PRWEB) December 10, 2015
Transparent House, a next-generation creative agency, today announced the launch of a groundbreaking virtual reality holiday card. Available in the Apple App and Google Play stores for free download today, Happy VR is a fully-immersive, 360-surround mobile VR app that transports viewers to a festive San Francisco street corner where they can celebrate with the entire Transparent House team.
"We wanted to invite clients to celebrate the holidays with us in the city we've called home for over 10 years - and what better way than to bring them right into an urban streetscape full of clanging cable car bells, festive decorations and bustling holiday cheer," said Denis Krylov, co-founder and partner at Transparent House.
Transparent House will mail some clients a branded Google Cardboard VR headset with instructions on how to download Happy VR to their Android or ioS devices. Clients will then be able to plant themselves on the corner of Taylor and Washington streets in San Francisco's historic Russian Hill neighborhood. The immersive app lets viewers explore the street in 360-degree, fully stereoscopic 3D VR. They can check out the holiday decorations, take in the Bay views or wave hello to a cable car carrying the Transparent House team - all without tapping or swiping, since the app includes hands-free navigation tools. Viewers without a Google Cardboard or other compatible VR headset can view the app in 360-degree pano on their mobile devices.
Transparent House is a leader in the creation of cutting-edge VR apps for real estate, architecture, retail and consumer product companies. Like many of its VR apps, Transparent House created Happy VR by combining high-definition 360-spherical photography with photorealistic CGI. Nuances in lighting, shadow, texture and particle effects deliver a vivid, lifelike feel.
"Our holiday card is a great example of how you can use VR to create a truly engaging, immersive brand experience," said David Scott, director of accounts at Transparent House. "We combined a direct mail print piece with a VR mobile app - and we're starting to create more and more cross-channel VR campaigns like this for our brand clients, too."
Transparent House has developed a proprietary process to push photorealistic 3D rendering and animation to immersive stereoscopic VR environments on mobile devices. Leveraging the power of Unity, game engines and the latest Oculus SDK tools, Transparent House designers adapt each build to the size of the application, using specialized workflows to create a balance of high-definition graphics and device performance. The company also developed a set of hands-free navigation tools enabling viewers to control the VR experience without touchscreen inputs.
About Transparent House
Transparent House is a next-generation creative agency based in San Francisco and Moscow. With roots in photorealistic CGI and design, Transparent House produces stunning content and transformative branding for advertising and marketing. Founded in 2004, Transparent House produces photorealistic renderings, animations and live action video, and develops interactive mobile, VR and AR apps. Transparent House serves high-profile, future-forward brands in the real estate, architecture, retail and consumer product industries, including HP, Chevrolet, Sephora, Starbucks, Simple Human, Lennar Urban, Samsung, and many more.