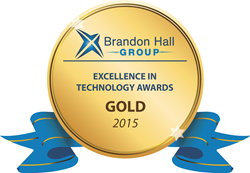 Chapel Hill, NC (PRWEB) December 10, 2015
Vestrics, the industry leader in predictive analytics and workforce optimization solutions for human capital, today announces their recognition as the Gold Recipient in HR Predictive Analytics Technology by the Brandon Hall Group. Vestrics was recognized as the category winner in The Excellence in Technology Awards through its innovative Vision technology platform.
"Vestrics is thrilled to extend its market leading position in predictive analytics and workforce optimization technology solutions," states Brian J. Kelly, President & Chief Executive Officer of Vestrics. "The Brandon Hall Group Execellence Awards are widely recognized as one of the highest industry achievements for any software firm. I am personally excited for our team, and our clients, to be recognized for their hard work and contributions to the fastest growing market in Human Resources today."
Vestrics Vision enables organizations across the globe to predict and optimize the business impact of workforce investments. Fortune 500 clients are maximizing analytics efforts with Vestrics proven methodology, powered by the award-winning Vision platform. Vision delivers an automated, scalable analytics process that allows organizations to invest with precision to drive business results.
"We are honored to recognize Vestrics for their award-winning technology," said Rachel Cooke, Chief Executive Officer of Brandon Hall Group, "The innovation represented by them can serve as models for success for many others that strive to push their organizations to the next level."
The Brandon Hall Group has been awarding organizations for 22 years through their Excellence Awards Program. The Excellence Awards recognize the best organizations that have successfully deployed programs, strategies, modalities, processes, systems and tools that have achieved measurable results.
ABOUT VESTRICS
Vestrics helps organizations across the globe predict and optimize the business impact of human capital decisions through Vestrics' Vision, the leading cloud-based predictive analytics and workforce optimization platform. Founded in 2004, as Capital Analytics, Vestrics has been recognized by Aragon Research as a 2015 Hot Vendor, by Gartner as a Cool Vendor of the Year, by the ROI Institute for the most innovative approach to ROI and by Bersin and Associates as a learning leader. The Brandon Hall Group awarded Vestrics with an Excellence in Technology recognition in 2014 and 2015 and CIOReview Magazine named Vestrics to the top most promising companies for data analytics. To see Vestrics Vision in action, please visit http://www.vestrics.com.