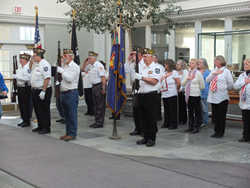 Cleveland, OH (PRWEB) December 10, 2015
MacroPoint, creators of patented freight tracking software designed to give 3rd party visibility into load status by monitoring and tracking the location of a driver's mobile phone, including flip phones, or existing in-cab ELD/GPS devices, is proud to announce its continued support of Wreaths Across America (WAA).
"MacroPoint is proud to be supporting Wreaths Across America as they place remembrance wreaths on gravestones at Arlington National Cemetery and at more than 1,000 veterans' cemeteries nationwide," said Bennett Adelson, President of MacroPoint. "Partnerships are important to us, both in our business and our community. Supporting causes like Wreaths Across America through the Truckload Carriers Association's Truckload of Respect program means a great deal to us."
This year, MacroPoint funded the purchase of one-of-a-kind, limited release collectible trucks that were sold during the annual gala organized by the Truckload Carriers Association to support Wreaths Across America. Each truck purchased provides funds for wreaths to be placed on veteran's gravestones across the nation.
The tradition began quietly in 1992 by Morrill Worcester and his family. The Worcester's annual family tradition of placing wreaths on veterans' tombstones, initially referred to as the Arlington Wreath Project, garnered national attention through an iconic photo posted on the internet in 2005. Since then the annual charity event has gained momentum every year and now involves 1,000's of volunteers and includes a week long 'parade' with stops at schools, monuments, Veterans' Homes and communities. The national attention gives the group an opportunity to promote their mission: Remember, Honor and Teach.
MacroPoint's GM, Glynn Spangenberg, whose family line includes veterans of nearly every war in America's history, is proudly serving in this year's "Escort to Arlington" that departed Harrington, ME, Sunday morning, December 6th and is due to arrive in Arlington, Virginia on Saturday, December 12th. "We're humbled to be a part of this important event to honor the memory of our veterans," said Spangenberg. "It's a privilege for MacroPoint to participate with Wreaths Across America in remembering the names of these brave men and women who valiantly fought for our freedom", he added.
In 2015, Wreaths Across America and America's trucking industry are expecting to haul more than 230,000 wreaths to Arlington National Cemetery and deliver over 900,000 wreaths to 1,034 cemetery locations across the country. The wreaths are being hauled by 300 trucks representing 190 volunteer trucking companies.
Wreaths Across America, a 501(c)3 non-profit organization, carries on a tradition started by the Worcester family of Harrington, Maine, in 1992. The organization is dedicated to honoring and thanking United States veterans for their service and sacrifice by placing wreaths at veterans' graves at Arlington National Cemetery and other cemeteries across the country on National Wreaths Across America Day, held annually on the second Saturday in December, and teaching future generations of Americans to never forget the sacrifices made to ensure freedom.
Wreaths can also be purchased at http://www.truckloadofrespect.com/.
About MacroPoint
Headquartered in Cleveland, Ohio, MacroPoint designs freight monitoring and tracking solutions for shippers, brokers and 3PLs. Founded in 2011, MacroPoint's patented, automated load monitoring and tracking software provides load location visibility to third parties. The 'pay per use' solution works on any cell phone, not just smart phones, and with existing in-cab ELD/GPS tracking devices to provide real-time location monitoring and tracking, delivery monitoring, and event notifications to third parties. Integrated with a wide range of TMS systems, MacroPoint automates the entire process, eliminating the need for drivers to check in with dispatchers, and for shippers and brokers to check in with carriers. To date, nearly 300,000 drivers supporting thousands of brokers, shippers and trucking companies are MacroPoint enabled in addition to the nearly two million trucks connected to MacroPoint via in-cab ELD devices. To learn more about MacroPoint's industry leading solution for third party shipment tracking or to purchase a commemorative Wreaths Across America truck, call 866-960-0328 or contact us at http://www.macropoint.com.
Media Contact:
Susan Fall
LaunchIt Public Relations
858-490-1050
susan(at)launchitpr(dot)com