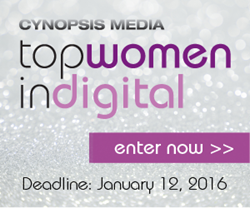 New York, NY (PRWEB) December 10, 2015
Cynopsis Media is announcing the call for entries for the Top Women in Digital Awards, celebrating the unique, the uncommon and the bold in the digital media industry. The awards will honor women who excel in digital content, marketing, advertising, social media, and online. Cynopsis is now accepting entries for a variety of categories through January 12, 2016. The winners will be announced in February and honored at a special awards reception in March.
"This will be the second year that Cynopsis spotlights and celebrates the incredible women in the digital arena," said Roberta Caploe, Cynopsis Associate Publisher. "They deserve our respect and support, and Cynopsis is the perfect vehicle for such recognition."
Presented by one of the industry's most-read and trusted brands, Cynopsis, the eligibility period is January 2015 - January 2016. (Enter Online Now)
Spanning the spectrum of television, radio, and online platforms, the category list encompasses rising stars, corporate visionaries, entrepreneurs, and more. To see the complete list of categories, go to the award webpage. Entry deadline is Tuesday, January 12, 2016.
Winners and honorable mentions will be celebrated at an awards luncheon in March, and profiled in a special edition of Cynopsis Digital. For entry questions, contact Sarah Martinez at sarah(at)cynopsis(dot)com. For advertising or sponsorship information, contact VP of Sales & Marketing Mike Farina at mike(at)cynopsis(dot)com.
About Cynopsis Media:
Cynopsis Media is what the TV industry reads first every day. The Cynopsis Media family of products includes the media industry's most-read daily, Cynopsis, plus sister dailies Cynopsis Digital and Cynopsis Sports, the Cynopsis Jobs board and special reports. Serving TV, agency and brand professionals, Cynopsis Media produces conferences, webinars, and awards programs that are second to none. Find out more at cynopsis.com.