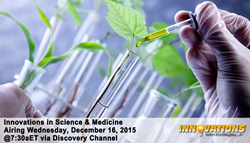 We look forward to this episode. It is sure to educate and enlighten...
Jupiter, FL (PRWEB) December 14, 2015
DMG Productions announced today the upcoming airing of Innovations with Ed Begley, Jr., scheduled to broadcast on Wednesday, December 16, 2015 at 7:30aET via Discovery Channel.
The show will explore some of the programs offered by OnTrack, a recovery organization dedicated to addressing the mental, social, economic, and legal effects of addictive behavior. Moreover, the show will educate viewers about OnTrack's youth services for children welfare.
Built upon a rich legacy of innovative "firsts," Janssen Biotech, Inc. pursues innovative solutions in the therapeutic areas of immunology, oncology, and nephrology. This segment will educate viewers about the company's many discoveries, which have lead to new treatments, and new ways to empower patients while expanding access to quality care.
Lastly the show will focus on Aftermath Services LLC. In addition to learning about their operations, audiences will be educated on the 28-point checklist that Aftermath publishes, which acts as a reference guide to the national requirements and best practices impacting the biohazard industry. Viewers will also be educated on how the company meets or exceeds most commercial and government requirements and is licensed to operate in 48 states.
"We look forward to this episode. It is sure to educate and enlighten our viewers on some very exciting topics," said Jake Meiteles Senior Producer for the series.
About Innovations & DMG Productions:
Innovations, hosted by award winning actor Ed Begley, Jr., is an information-based series geared toward educating the public on the latest breakthroughs in all areas of society. Featuring practical solutions and important issues facing consumers and professionals alike, Innovations focuses on cutting-edge advancements in everything from health and wellness to global business, renewable energy, and more.
DMG Productions (responsible for creating the Innovations show) includes personnel specialized in various fields from agriculture to medicine, independent films to regional news and more. Our field producers work closely with experts in the field to develop stories. This powerful force enables us to consistently produce commercial-free, educational programming that both viewers and networks depend on.
For more information visit: http://www.InnovationsTelevision.com or contact Jake Meiteles: (866) 496-4065 or: jake(at)innovationstelevision.com.