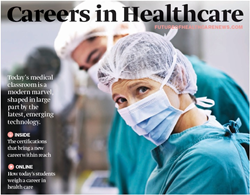 Today's medical classroom and office is transforming every day, in large part because of the latest technologies.
New York, NY (PRWEB) December 11, 2015
Mediaplanet today announces distribution of the latest edition of "Careers in Healthcare," a cross-platform campaign that showcases the challenges and opportunities facing medical professionals. From doctors and surgeons to nurses and physician assistants, this campaign provides a detailed look at the variety of careers currently available and needed in the health care industry, as well as the resources that are assisting medical professionals every day.
Today's medical classroom and office is transforming every day, in large part because of the latest technologies. "The new physician graduates will need to be better trained and more technologically savvy than ever before," explains Orien L. Tulp, Ph.D., M.D., a professor at USAT Montserrat College of Medicine, "all without neglecting the traditional time proven elements of a sound medical or graduate education."
The campaign also features exclusive editorial from the American Nurses Association and the National League for Nursing that emphasize the need for more nurses to pursue higher education due to new demands. Career development programs and resources, such as online degrees, help students further develop their professional careers while still managing their day to day responsibilities.
The print component of "Careers in Healthcare" is distributed within USA Today on December 11 with a circulation of approximately 450,000 copies and an estimated readership of 1.4 million. The digital component is distributed nationally, through a vast social media strategy, and across a network of top news sites and partner outlets. To explore the digital version of the campaign, click here.
This campaign was made possible with the support of the American Academy of Physician Assistants, American Association of Colleges of Nursing, American Medical Student Association, American Nurses Association, American University of Integrative Sciences at St. Maarten School of Medicine, Association of American Medical Colleges, Atlantic University School of Medicine, Barco Uniforms, Cigna, Frontier Nursing University, Gardner-Webb University, John's Hopkins University, Lincoln Memorial University, Maxim Staffing Solutions, McGraw-Hill Education, MGH Institute of Health Professions, National League for Nursing, Sacred Heart University, St. George's University, the PASS Program, USAT Montserrat, Windsor University School of Medicine and many more.
About Mediaplanet
Mediaplanet is the leading independent publisher of content-marketing campaigns covering a variety of topics and industries. We turn consumer interest into action by providing readers with motivational editorial, pairing it with relevant advertisers, and distributing it within top newspapers and online platforms around the world.
Contact:
Nick Barba or Harika Manne;
nicholas.barba(at)mediaplanet(dot)com
harika.manne(at)mediaplanet(dot)com
646-755-7966
646-755-7951