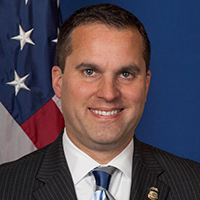 "I'm excited to join the industry leader in law enforcement Property & Evidence Auction Services, PropertyRoom.com," Claude Arnold.
Frederick, MD (PRWEB) December 15, 2015
Leading online auction site, PropertyRoom.com, which conducts "$1, No Reserve" public auctions for law enforcement agencies nationwide, recently announced a new addition to their sales team. Claude Arnold joins PropertyRoom.com as Senior Sales Director and will be charged with nationwide sales and business development for their Firearms Auction Services and regional responsibilities for general Property & Evidence Auction Services and Municipal Surplus Fleet Disposition Services.
Claude joins the PropertyRoom.com team after serving 27 years in federal law enforcement. Most recently Claude held the position of Special Agent in Charge for U.S. Immigration and Customs Enforcement, Homeland Security Investigations (HSI) in Los Angeles, California where he was responsible for the Department of Homeland Security's investigative mission in the Los Angeles and Las Vegas metropolitan areas. During his tenure, Claude oversaw criminal investigations for the area with one of nation's largest and most ethnically diverse populations, one of the country's busiest international airports, the largest seaport in the Western hemisphere, and notoriety for organized criminal activity.
Having led multi-jurisdictional interstate and transnational criminal investigations, resulting in record monetary and property forfeitures, Claude brings his law enforcement expertise of the asset forfeiture and procurement processes to PropertyRoom.com.
"We are thrilled to have Claude Arnold join the PropertyRoom.com team" says Donald Nemer, SVP of Sales for PropertyRoom.com. "Claude has invaluable experience in the law enforcement world which I know will not only reinforce our team, but also help to provide a deeper understanding of our clients' needs."
"I'm excited to join the industry leader in law enforcement Property & Evidence Auction Services, PropertyRoom.com," said Claude. "I believe my experience in federal law enforcement will bring a unique insight to PropertyRoom.com on the daily pain points for our law enforcement clients and I look forward to sharing my knowledge and expertise with our team."
About PropertyRoom.com
PropertyRoom.com makes it remarkably easy for our 3,000+ clients to manage and sell surplus assets. We streamline the entire auction process on a client's behalf and ensure delivery to the winning bidder. There is always a unique deal to be found, with hundreds of new auction listings added daily. Top categories include jewelry, watches, collectible coins and consumer electronics along with cars, trucks, heavy equipment, and firearms through a partner website, eGunner.com. Working with law enforcement agencies, municipal surplus departments, state/county fleet programs, airports and even museums, PropertyRoom.com has generated and distributed millions of dollars to local communities nationwide.
###