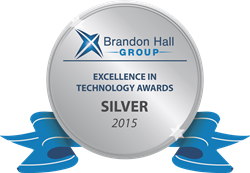 It is an honor to be recognized for our advances in technology by the Brandon Hall Group
San Jose, California (PRWEB) December 10, 2015
RiseSmart, a Randstad company and the leading provider of contemporary career transition services, has received the 2015 Brandon Hall Group Excellence in Technology Award. RiseSmart was awarded a silver medal for the Best Advance in Unique HR and Workforce Management Technology.
RiseSmart continues to revolutionize the industry with an outplacement solution unlike any other. With RiseSmart Spotlight™, the company pairs an advanced cloud-based technology with a highly-accessible team of professional job coaches, resume writers and job sourcing experts to identify relevant career opportunities. The platform launched earlier this year and replaced RiseSmart Transition Concierge as the company's flagship outplacement solution. RiseSmart Spotlight reinvents traditional outplacement services with access to career transition resources anytime, anywhere.
"It is an honor to be recognized for our advances in technology by the Brandon Hall Group," said Sanjay Sathé, RiseSmart president and CEO. "At RiseSmart, we are excited to bring change to an industry that has long been dominated by brick-and-mortar outplacement providers that aren't addressing the needs of the contemporary organization or job seeker. RiseSmart continues to achieve impressive growth and change the landscape of the outplacement industry by providing breakthroughs that move careers forward."
RiseSmart has been challenging long-established players in the outplacement market since 2007 and was recently acquired by Randstad Holding, one of the largest HR services companies in the world.
Brandon Hall Group senior analysts and executive leadership based selections of this year's winners on several criteria, including design of the solution, functionality, usability, innovation and overall measureable benefits. The winners will be honored at the Brandon Hall HCM Excellence Conference to be held January 27-29, 2016, in Palm Beach Gardens, Florida.
For more information on the 2015 Brandon Hall Group Excellence in Technology Awards winners, click here.
About RiseSmart
RiseSmart, a Randstad company, is a leading provider of contemporary career transition services that strengthen employer brands, improve retention and re-engage talent. RiseSmart's contemporary approach to outplacement combines personalized services from trained professionals with unmatched technology delivered through a convenient, cloud-based platform. High-performing organizations in more than 40 industries rely on RiseSmart's outplacement solution to help former employees find new jobs faster. Landing rates exceeding 80 percent and time-to-placement averages more than 60 percent faster than national averages have helped make RiseSmart the nation's fastest-growing outplacement firm. RiseSmart's innovative approach to human capital management has earned the company a wide range of awards and recognition from organizations including Bersin by Deloitte, the Best in Biz, Gartner Inc., the Golden Bridge Awards, GreatRated!, LAROCQUE, the Momentum Index, Red Herring, the San Francisco Business Times, SiliconIndia, the Silicon Valley/San Jose Business Journal, the Stevie Awards and TIE. Additionally, RiseSmart's outplacement solution has earned the exclusive endorsement of the American Hospital Association. For more information about how enterprise career management can help you, visit http://www.risesmart.com.