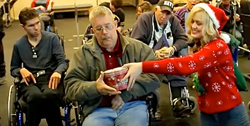 This year over 2 million people will suffer a traumatic brain injury. The High Hopes Head Injury Program offers rehabilitation and retraining that helps restore independence.
Los Angeles, CA (PRWEB) December 10, 2015
Pop sensation and Nashville recording artist Mary Desmond paid a visit to the students at the High Hopes Head Injury Program with the gift of cookies and a song. Just as important as her stopover is her new video of Mariah Carey's 'All I Want For Christmas', which includes her appeal for fans to contribute to the non-profit program, which is located in Tustin, CA.
To see the video go to: https://youtu.be/HmgSt35Ltb0. To contribute visit: http://www.highhopes.ws.
High Hopes Head Injury Program
The video demonstrates how rigorous and thorough the work with the students at High Hopes Head Injury Program is. "This Christmas I wanted to give back,' Mary stated to her You Tube followers. "This video will show you a little bit about the students at High Hopes Head Injury Program and how you can help them this Christmas."
Miss Desmond's overall goal is to turn fan awareness of the need for funding into contributions. High Hopes Head Injury Program has a very high rate of success via its unique rehabilitation and retraining program. The goal at High Hopes Head Injury Program is to restore as much personal independence to individuals as possible, regardless of the type or severity of the injury.
Causes Of Brain Injuries
Traumatic brain injuries are predominantly caused by automobile accidents. Other causes include falls, sports related injuries, assault, motorcycle accidents, and stroke. According to her video, 'every year, approximately 2 million people here in the U.S. will suffer a traumatic brain injury.' Military service veterans returning from Iraq and Afghanistan also suffered devastating head injuries caused by exploding mines and so called 'IED's'. While only a few years prior those explosions would have been fatal, improved equipment, the close proximity of treatment facilities and improved battlefield medical practices allow more U.S. combat veterans to survive these types of attacks than before. But those same survivors often require extensive rehabilitation like that which is available at High Hopes Head Injury Program.
Celebrity Appeal In The Cyber World
The potential outcome of an on line request is noteworthy in the new, cyber reality of fund raising and marketing. Miss Desmond's You Tube channel has over 43,500 subscribers; her Twitter feed another 56,600; while her Facebook page has 19,060 'likes' at last count. "My only goal is for fans to donate what they are able and to share this video with as many of their friends and relatives as possible. This to generate as many donations this Christmas season as we can," she said. "That would make for a very Merry Christmas."
To Donate To The High Hope Head Injury Program
For more information about High Hopes or to donate go to:
‪http://www.highhopes.ws
High Hopes Head Injury Program
2953 Edinger Ave, Tustin, California 92780,
Phone: 949-733-0044
Fax: 949-733-0041