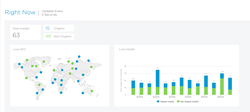 Right Now is an invaluable tool that provides a real-time window into an app's growth so that marketers can quickly and efficiently optimize campaigns on the fly.
San Francisco, CA (PRWEB) December 10, 2015
AppsFlyer, a leading mobile marketing attribution analytics platform, announced today that app marketers can now track the performance of install campaigns as they unfold with the launch of the company's new real-time reporting feature, Right Now. Now available to all AppsFlyer clients through the company's all-in-one dashboard, Right Now showcases the impact of real-time install data as it happens to provide app marketers with a live window into their app's growth.
Given the increasingly fast and competitive nature of app marketing, it has become crucial for marketers to gain real-time insights into campaign performance and act on them with speed and dexterity. Right Now can be used by app marketers to track campaign performance as it happens, actively optimize campaigns on the fly, track the impact of campaigns on a per region basis, or even as a motivational tool by displaying their app's growth on an Internet-connect TV.
Right Now is the first product to come out of AppsFlyer Labs, the company's new initiative designed to surface innovative solutions to some of app marketing's biggest challenges. AppsFlyer Labs is a collaborative effort between AppsFlyer's product designers, engineers, account success teams and the company's partners to identify, develop and launch experimental features that provide new ways to use and interact with mobile app marketing data. AppsFlyer Labs is currently nurturing multiple projects, with several new products expected to be rolled out shortly.
"App marketers need real-time information at their fingertips in order to make sure they're running the most effective campaigns possible," said Oren Kaniel, co-founder and CEO of AppsFlyer. "Right Now is an invaluable tool that provides a real-time window into an app's growth so that marketers can quickly and efficiently optimize campaigns on the fly."
Existing AppsFlyer customers can begin using Right Now immediately by accessing it through their dashboard. New customers can request a free demo or sign up for an account through the AppsFlyer website at http://www.appsflyer.com.
# # #
About AppsFlyer
AppsFlyer is the leading mobile advertising attribution and marketing analytics platform, enabling app marketers, brands and ad agencies to measure their marketing campaigns across more than 1,400 integrated media partners. As a Facebook Mobile Measurement Partner, Google Official Partner, and Twitter Official Partner, AppsFlyer provides mobile advertisers with unbiased attribution, mobile campaign analytics, in-app user engagement tracking, lifetime value analysis, ROI and retargeting attribution. Our real-time dashboard, NativeTrackTM and OneLink smart deeplinking, provide advertisers the tools they need to achieve the optimal return on their marketing dollars. AppsFlyer currently serves more than 10,000 advertisers, measures more than $3 billion in annual mobile ad spend and tracks more than 800 million installs and 150 billion user actions every month. Noteworthy clients include Playtika, IHG, Alibaba, Baidu, Trivago, Macy's, Samsung, DeNA, and HBO. For more information, visit http://www.appsflyer.com.
Media Contact
Fluid PR, Inc.
Matt McAllister
(510) 229-9707
matt(at)fluidspeak(dot)com