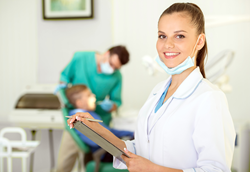 The high standard of care combined with the low cost of treatment has made Tijuana Bariatrics one of the hot spots in terms of medical tourism.
Tijuana, BC (PRWEB) January 27, 2016
Tijuana Bariatrics, long known for attracting bariatric surgery patients from the United States, has recently expanded its practice to include a comprehensive range of dental procedures. The practice now offers general, restorative, and cosmetic dentistry treatments at a facility located just one block from its bariatric operating room.
The dental facility meets all U.S. standards, offering a clean, comfortable, modern setting in which the highly trained and experienced dentist can provide such popular treatments as porcelain veneers, dental implants, teeth whitening, dental crowns, and dental bridges. Patients from the United States are encouraged to plan a vacation around their dental appointment, as the office is located in one of the most pleasant areas of Tijuana. The high standard of care combined with the low cost of treatment has made Tijuana Bariatrics one of the hot spots in terms of medical tourism.
Patients who entrust their oral health to Tijuana Bariatrics can expect the same quality of care that they would expect at a state-of-the-art facility in the United States. The practice features updated equipment and technology, including 3-D x-rays that produce less radiation than their conventional counterparts. Only the finest materials are used in procedures, such as Sapphire restorations. Yet, prices are significantly lower than in the United States.
All work is performed by Dr. Julio Serecero, a board-certified dentist with 15 years of experience whose stated goal is to provide patients with quality work that will allow them to achieve a beautiful smile at a reasonable price. Patients will arrange their appointments through Tijuana Bariatric's care coordinator, who will also conduct the initial consultation. The information gathered during this consultation will passed along to Dr. Serecero, who will perform the follow-up evaluation. Dr. Serecero is fluent in English.
During their consultations, patients are encouraged to ask questions and raise any concerns they might have. Pricing and information about testing will be discussed at this time, as well.
Patients may bring a friend or family member with them to their appointment; this person may also undergo treatment if desired.
One of the most distinguishing elements of the practice is that Dr. Serecero performs all phases of implant dentistry. Some dentists advertise implant dentistry services; however, they merely provide the restorations that are attached to the titanium implant posts. The posts themselves are placed by outside oral surgeons. Dr. Serecero is one of the rare dentists with the training and skill both to surgically place and restore dental implants. This saves the patient time and money, on top of the money he or she is already saving by having the procedure performed in Tijuana.
Further information on Tijuana Bariatrics or its general, restorative, and cosmetic dentistry services can be obtained by visiting http://www.tijuanabariatrics.com or by contacting:
San Diego Office
(800) 308-3607
info(at)tijuanabariatrics.com
Originally posted by Dr. Fernando Garcia.