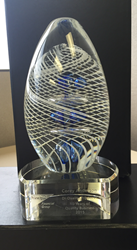 I'm just doing what I'm supposed to be doing.
MINNEAPOLIS, Minn. (PRWEB) December 16, 2015
It takes a certain amount of tenacity to make disability insurance fun without losing the substance of its inherent nature. Corey Anderson, an Executive Consultant at Secura Consultants, has that tenacity and he's recently been rewarded for it. Corey received the Disability Insurance (DI) Quality Producer Award from Principal Financial Group in November celebrating 10 years of quality business.
The Quality Producer Award is given to insurance advisers in the insurance industry who excel in the placement of disability income policies with Principal Financial Group. The Disability Insurance Quality Producer Program identifies and rewards Principal Financial Group's best disability producers. Members of this group have met criteria including a high level of Individual Disability Insurance production; good persistency; favorable morbidity experience, and low wastage, meaning when producers submit an application, the policy gets placed. The disability insurance industry in general typically averages in the low 60% in placement whereas Corey places nearly 95% of all applications submitted.
"Our team is incredibly proud of Corey and of what he has accomplished. Corey is a top-performing disability insurance producer in our organization and our industry. He has the ability to take the complex subject matter and make it easy to understand. Corey has a high-level of energy that he brings to every meeting and he does a thorough job ensuring the client understands the details of their income protection plan. He does all this while maintaining a fun atmosphere for his team and his clients. Receiving this award is the result of ten years of hard work and Corey's determination, persistence, and tenacity paid off. We are excited to see what future for Corey," said George Davidson, Chief Executive Officer at Secura Consultants.
Mike Sir, Regional Vice President for Principal Financial Group emphasized that in 2015, 161 producers across the United States qualified as a DI Quality Producer, however, to receive the award Corey was presented they must qualify for the program every year for 10 consecutive years. Corey is one of only 15 producers in the country to have accomplished this in 2015.
"It's an odd thing, receiving this award, because in all honesty, I'm not doing anything special. I'm just doing what I'm supposed to be doing. It is an honor to have received it and I'm grateful to Mike Sir and the team at Principal for this recognition, don't get me wrong. But I also believe every adviser in the industry should be doing this kind of work. Taking care of the client is what it's all about," commented Corey Anderson upon receiving the award.
About Secura Consultants
Based in the Twin Cities of Minneapolis and St. Paul, Secura Consultants is one of the few insurance marketing organizations in the country focused on delivering exemplary solutions in the income and asset protection markets as well as employer sponsored ancillary benefits. Secura Consultants works with several insurance agencies, advisers, and carriers to bridge the gap to find the best deal for the client and expedite the insurance policy purchasing process. We provide unique income solutions for unique advisers. For more information, contact Lauren Dries, Marketing Consultant, at Lauren(at)securaconsultants(dot)com or call 952-224-5400.
About Corey Anderson and the DI Geek Team
Corey Lee Anderson describes himself as a "Disability Insurance Geek"! Corey knows how frustrating or unappealing any type of insurance can be to most people and he has made it his life-long quest to inform, promote and place Disability, Life and Long Term Care Insurance for everyday people, and make it a fun and enjoyable process for the advisers who refer Corey to their clients and for the client as well. If you choose to partner with Corey and his team, you and your clients will receive the best service, solutions and higher chance of closing disability income protection sales successfully every time.
About Principal Financial Group
The Principal is a global investment management leader, offering retirement services, insurance solutions and asset management for individuals, businesses and institutional clients around the world.