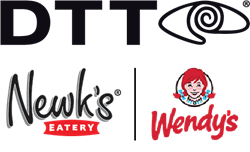 The SmartAudits™ and POS integration have helped tremendously with monitoring transactional integrity issues.
Las Vegas, NV (PRWEB) December 15, 2015
Los Angeles, CA | DTT announces today a partnership with JMH Dining, LLC, a Newk's Eatery and Wendy's franchisee based in Jackson, Mississippi. DTT is now the preferred provider for JMH Newk's restaurants and is installed in 10 JMH locations throughout Alabama and Mississippi.
Originally solely a Wendy's operator but looking to expand their brand portfolio, JMH attended a Newk's convention and met DTT in 2012. After piloting the solution in one ground-up Newk's store, JMH signed a deal to install DTT in 7 of their well-established Wendy's restaurants last year, followed by an additional 2 Newk's stores. JMH plans to add DTT to a fourth Newk's store slated for completion in March 2016.
"We've been a DTT customer for over two years now and couldn't be happier with the level of service," says Matt Collins, JMH Dining Franchisee. "DTT professionals have provided quick and continual support, from the very first store signing through the installation of our next 9 restaurants. The SmartAudits™ and POS integration have helped tremendously with monitoring transactional integrity issues. It's such a timesaver to have DTT compile reports that I can quickly scan and then view corresponding video. We have been able to see an especially huge difference in our Wendy's locations, which have been in operation for 15-20 years. We also utilize case management tools like RISA to save footage and aid in investigating when a serious event occurs."
"We're thrilled to have had an impact on both brands under the ownership of JMH," states Tom Moran, EVP of Sales and Marketing for DTT. "Our solution is adaptable to all kinds of business models, including newly constructed stores and restaurants that have been in operation for a number of years. It's fantastic that JMH can go through historical financial data from older stores and see a noticeable difference since installing DTT, while also nipping these issues in the bud at their ground-up locations. We're excited for the opportunity to grow with this franchisee and are looking forward to continued improvements in JMH's operations."
About DTT
Headquartered in Las Vegas, Nevada, DTT provides digital video surveillance solutions to the hospitality and specialty retail industries. DTT was founded in 1999 by Sam Naficy, leveraging the power of emerging digital technology to support the needs of a broad base of clientele. Since first launched, DTT has equipped, serviced and supported more than 35,000 clients. Every day, software provided by DTT protects trillions of dollars in assets and oversees nearly 2 million employees. Some of the world's most popular and respected restaurant brands use DTT including McDonald's, SUBWAY®, Dairy Queen, Burger King, Dunkin Brands, Taco Bell, KFC, Auntie Anne's, and Potbelly Sandwich Works, to name a few. Please visit http://www.dttusa.com for more information.
About Newk's Eatery
Based in Jackson, Mississippi, Newk's Eatery is leading the next generation of fast casual with its culinary-driven menu made from the finest ingredients including soups, salads, pizzas and sandwiches all made daily in open-view kitchens and served fresh for lunch and dinner. Founded in 2004, and acquired by Sentinel Partners in 2014, Newk's currently operates and franchises nearly 85 units in 13 states. For more information, visit http://www.newks.com.
About The Wendy's Company
The Wendy's Company is the world's third-largest quick-service hamburger company. The Wendy's system includes approximately 6,500 franchise and Company-operated restaurants in the United States and 28 countries and U.S. territories worldwide. For more information, visit http://www.aboutwendys.com.