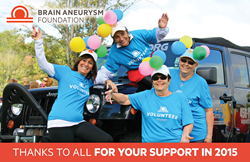 With your contribution, we can ALL come together for brain aneurysm awareness, education, advocacy, support and research as ONE.
Hanover, MA (PRWEB) December 11, 2015
In the spirit of the holiday season, the renowned Brain Aneurysm Foundation offers sincere gratitude to all supporters, donors and volunteers for making a difference in the lives of those affected by brain aneurysms. "With your contribution, we can ALL come together for brain aneurysm awareness, education, advocacy, support and research as ONE," states Christine Buckley, the foundation's Executive Director.
The kindness and generosity of supporters has enabled the Brain Aneurysm Foundation to accomplish many things this past year, including:

Awarded $265,000 in brain aneurysm research grant funding.
Provided educational booklets for brain aneurysm treatment options and recovery to patients and healthcare facilities.
Lobbied Congress for the passage of H.Res. 259 and S.Res. 176 to establish September as National Brain Aneurysm Awareness Month.
Developed an Early Detection video designed to educate medical professionals on the signs and symptoms of brain aneurysms
Attended various neurological conferences where we were able to provide resources to doctors and nurses for their patients.
Grew our established Support Group network to over 80 nationwide.
Worked with HQ Creative and their Emmy Award-winning producer, Mitchell Stuart, to develop and produce a brain aneurysm awareness PSA and video documentary.
Your donation towards the Brain Aneurysm Foundation's 2015 Annual Appeal is welcomed and will provide critical funding for Awareness Campaigns, Education, Advocacy, Research Funding and Support Groups.
The Brain Aneurysm Foundation truly appreciates your support of the 2015 Annual Appeal. Please visit give.bafound.org/2015Appeal to make your online donation today. Together we can work as ONE to reduce the incidence of brain aneurysm ruptures and save lives.
The Brain Aneurysm Foundation is the globally recognized leader in brain aneurysm awareness, education, support, advocacy and research funding. Now celebrating 20 years of service, the Brain Aneurysm Foundation was established in 1994 in Boston, Massachusetts with a mission to promote early detection of brain aneurysms by providing knowledge and raising awareness of the signs, symptoms and risk factors; work with the medical communities to provide support networks for patients and families; as well as to further research that will improve patient outcomes and save lives. For more information about the Brain Aneurysm Foundation, visit http://www.bafound.org.