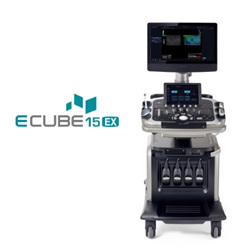 Our E-Cube 15EX was approved and endorsed by Dr. Kevin Kelly, one of the most important radiologists in the United States. -Rafael Carballido, Alpinion Ultrasound Distributor
St. Cloud, Florida (PRWEB) December 16, 2015
"Our E-Cube 15 EX was approved and endorsed by Dr. Kevin Kelly, one of the most important radiologists in the United States, and the inventor of Sonocine, an automated breast ultrasound exam system. Dr. Kelly determined the E-Cube's image quality for breasts is comparable to that of high-end, more expensive systems. He's officially endorsed only a few high-end machines and is now including our cutting-edge, more affordable Alpinion Ecube 15EX amongst their ranks," says Rafael Carballido, a national distributor for Alpinion.
Following Dr. Kelly's endorsement, Alpinion made their first sale of an Alpinion E-Cube 15 EX to a high-end breast center in Santa Monica, California. Dr. Kelly's whole breast ultrasound approach offers an efficient new way of imaging that goes beyond the current standard of "mammography only" care in patients with dense breast tissue and breast implants.
The E-Cube's elastography allows physicians the ability to non-invasively measure and quantify tissue stiffness in the breast through acquiring the strain ratio between the target and reference area faster than before.
According to SonoDepot, the new, highly-sensitive E-Cube 15 EX has specialized transducers intended for general imaging, women's health, and cardiology. This cutting-edge technology increases diagnostic confidence with early evaluation and classification of simple and complex masses while reducing exam time and patient discomfort.
Vivid 3D/4D image quality is achieved by combining Live HQ and anatomical realism, a movable light source, and Alpinion's single crystal acoustic technology.
About SonoDepot
Floyd McAuliffe, Founder and President along with his brother Jack McAuliffe, CEO, are the owners of SonoDepot and trailblazers of OEM-Independent Ultrasound Support providing superior service to healthcare providers in the U.S. since 1985. SonoDepot, based in Central Florida, is an exclusive sales and service provider for the revolutionary Alpinion Ultrasound product line featuring E-CUBE. The company also proudly repairs, services and sells the industry's most respected brands including GE, Philips, HP, and Siemens. SonoDepot's services include ultrasound repair, transducer repair, probe evaluation and maintenance. They are retailers of both new and refurbished ultrasound systems. With a rapid 15-30 minute response time and 24/7 nationwide service, SonoDepot is keenly focused on customer service. 90% of SonoDepot's ultrasound repair clients are repeat customers who refer colleagues.