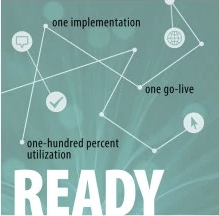 "Jacobus offers very robust services in their READY implementation approach, and along with their deep expertise in MEDITECH 6.1, we are confident in the decision we have made to partner with them."
Irvine, CA (PRWEB) December 10, 2015
Jacobus Consulting, a KLAS® top rated MEDITECH consulting firm that partners with providers to continually improve the quality of patient care, system and workflow operations, and financial performance, is certified by MEDITECH to consult healthcare organizations through a MEDITECH READY implementation. MEDITECH's READY certification program serves as a means for MEDITECH to "collaborate with leading vendors to create proven, integrated healthcare solutions" for their customers. It aims to provide a cohesive, integrated, team-oriented implementation approach that is targeted toward delivering predictable outcomes, like improved quality, safety, and efficiency of patient care; high utilization of system applications; and continued compliance with changing healthcare regulations.
To become MEDITECH READY certified, consulting firms must first demonstrate a lengthy track record of client satisfaction and expertise on the MEDITECH 6.x platform, as well as meet stringent knowledge criteria. With this certification as well as its most recent KLAS ranking, Jacobus Consulting is best positioned to lead the industry on 6.1 implementations using their READY methodology that includes: deep expertise in HIT, revenue cycle, HIM and clinical care delivery ensuring a comprehensive transformation for protecting revenue streams while ensuring workflows are efficient and effective; a proven physician governance and engagement approach that ensures 90%+ utilization; a process redesign methodology that solves root-cause problems and ensures organizations never have to retrofit their systems and staff; a book of knowledge that is transferred to hospital, IT, and business office staff to operate independently without the need for further consulting support.
Jacobus was selected by Henry Mayo Newhall Hospital (HMNH) to provide READY consulting services for their MEDITECH 6.1 implementation. "We are pleased to select Jacobus as our strategic partner for our MEDITECH 6.1 implementation. Our long-standing relationship with Jacobus in patient care, financial performance, and systems initiatives has helped us create opportunities for advanced healthcare programs. Jacobus offers very robust services in their READY implementation approach, and along with their deep expertise in MEDITECH 6.1, we are confident in the decision we have made to partner with them," stated Cindy Peterson, VP and CIO of Henry Mayo Newhall Hospital.
Henry Mayo Newhall Hospital is in the planning phase of its 6.1 READY implementation. As part of the overall implementation strategy, HMNH is partnering with Jacobus to drive the BPMN process of documenting current state workflows for every department and stay on track for a target go-live of 2017. Leveraging Jacobus implementation expertise, the hospital has also committed to be an early adopter of MEDITECH's innovative Web Acute functionality.
"Our mission at Jacobus aligns with our customers and MEDITECH alike to ensure there is maximum agility to deliver patient-centered care and support new delivery models in today's evolving healthcare demands," said Sandra Jacobs, CEO and Founder of Jacobus Consulting. "We do this with an approach proven to optimize outcomes and ensure user adoption while driving clinical transformation and financial integrity. Henry Mayo Newhall Hospital is highly recognized for innovation and IT performance, so we are very excited to work together again, especially for their READY implementation initiative and early adoption of the Web Acute capabilities."
About MEDITECH
MEDITECH has been the leader in the EHR industry since 1969. MEDITECH's applications unify clinical, administrative, and financial information across healthcare organizations - including acute care, long-term care, home health care, and physician practices. Today, more than 2,300 institutions worldwide use MEDITECH's information systems. For additional information visit http://www.meditech.com.
About Henry Mayo Newhall Hospital
Henry Mayo is a 238-bed, not-for-profit community hospital and trauma center based in Valencia, CA. It was recognized by Hospitals and Health Network as a "Most Wired Hospital" 2 years in a row (201 3 & 2014) while Cindy Peterson was named one of the top "100 Hospital and Health System CIOs to Know" by Becker's Hospital Review in 2014.
About Jacobus Consulting
Jacobus Consulting is dedicated to advancing the mission of healthcare providers through strategic advisory and information technology services in support of the patient continuum of care, revenue cycle and the journey to value-based healthcare. Our insightful, adaptable professionals engage through systems expertise, process proficiency, and workforce transformation to ensure that healthcare providers realize continued excellence in patient care, optimized operations, and improved financial performance. Follow us on LinkedIn, Twitter, and Facebook or visit: http://www.jacobusconsulting.com